Whether you are working at home or in the office, setting up a network printer is a great way to share resources and get more done in a short amount of time. With a network printer you can share network resources and save money, but it is important to know how to troubleshoot the printer when something goes wrong. One of the most important pieces of information you need to troubleshoot your network printer is the machine's network address.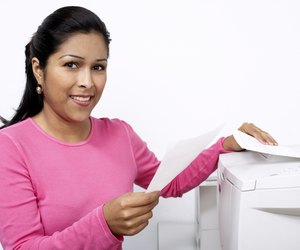 credit: Creatas/Creatas/Getty Images
Print a Test Page
Step
Click "Start" and select "Control Panel." Double-click on "Printers and Faxes." Highlight the network printer address and right-click on it.
Step
Choose "Properties" from the menu. Click "Print Test Page" to send a test page to the printer.
Step
Look at the test page for an entry called IP Address. This is the address of your computer on the network.
Ping the Printer
Step
Click on the "Start" button and choose "Run" from the menu if you know the name of the printer and need its network address.
Step
Type "cmd" in the box and click "OK." When the DOS window opens, type "ping printername" at the prompt.
Step
Look at the reply you receive from your ping command. That reply will contain the network address of the printer. The network address, also known as the IP address, will be expressed as a series of four numbers, each separated by a period (for example, 10.25.67.215).