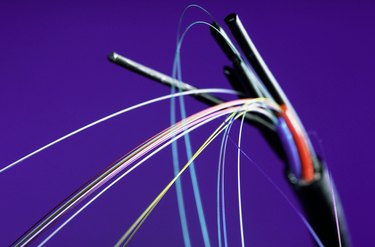 You can repair broken fiber optics using one of two methods. The first is a mechanical splice where you align the two pieces of the joint and use an optical gel to assist in light transfer. The second method involves fusing the two pieces together using heat. Mechanical splices have higher loss than fusion splices, and although the equipment is less costly, the cost per splice is higher.
Step 1
Strip the outer jacket away with a cable stripper. Rotate the tool around the cable one time, and then turn the blade 90 degrees. Pull the stripper along the cable to slit along its length. You can then peel the jacket off to reveal several protective layers that must be removed in turn using scissors or a hobby knife. Under the protective layers are bundles of fibers, which look much like wires. Remove the inner jackets and wipe away the protective gel with a pad soaked in alcohol.
Step 2
Clean the fiber optic stripper with alcohol. Remove the buffer tube with the stripper and clean the fiber until it squeaks. Examine it under magnification to see that you have removed all of the buffer tube. Insert the fiber in the cleaving device, lock it in place and cut it to length. Cleavers don't actually cut the fiber. They put a small nick in it and break it along a precise angle. Cleavers used for fusion splices operate at closer tolerances than those meant for mechanical splices and consequently cost more.
Step 3
Insert the fiber in the mechanical splice alignment tray. Some have covers that snap in place after the fiber is installed. Others are meant to have the fiber slide in from the end. Follow the manufacturer's instructions. These devices have gel that helps to reduce losses. One type of mechanical splice uses a window to allow the technician to align the fiber physically in conjunction with a visible laser source.
Step 4
Install new heat-shrink tubing before cleaving if using a fusion process. This step helps prevent contamination. Just slide it off to one side until the fiber is joined. Open the fusing device and align the fibers. Note that there are different channels for different sizes. Close the tool and activate the electric arc to fuse the two ends together. One type of tool both checks the new joint for losses and performs a tensile strength test as the unit is opened. Slide the heat-shrink tubing over the new joint and shrink it to fit.