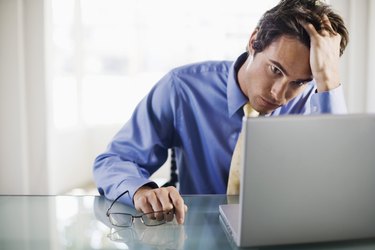 When you start your Firefox browser window, it should load to your homepage. If not, there may be a problem. This could mean that your browser has been hijacked. Browser hijacks occur in many ways. Most common attacks happen when you visit a web page and trigger code to download to your hard drive. Do not panic if you have been the victim of browser hijacking. Most hijackers do not want to do anything malicious to your computer but use this as a way to direct traffic to certain websites. Take some steps to fix a hijacked Firefox browser and return your computer to a healthy state.
Close Browser Windows
Step 1
Right-click on the time located on the right side of your computer screen.
Step 2
Select "Task Manager" from the menu that appears next to your cursor.
Step 3
Look for any application titled Firefox under the "Processes" tab.
Step 4
Highlight any Firefox process and click on "End Process" at the bottom of the window. This will close any running browser windows.
Block Pop-ups
Step 1
Open a new Firefox window.
Step 2
Click on the "Tools" menu located at the top of your browser.
Step 3
Select "Options" then "Content" from the top of the dialog box.
Step 4
Move your pointer to the box next to the "Block pop-up windows" if there is no check there then click on the box.
Step 5
Click on "Ok." to close the window.
Disable Add-ons
Step 1
Click "Tools" at the top of your browser window and select "Add-ons."
Step 2
Look through the list of add-ons and disable any that you no longer use or do not remember installing.
Step 3
Highlight the add-on and the click on "Disable" for that item that you need to remove.
Hard Drive
Step 1
Run your virus scan software. If you do not have software running that blocks viruses, you need to download one. AVG is a popular program offered at no charge (See Resources). Let the program scan your hard drive completely and follow the recommendations provided by the program.
Step 2
Open your control panel. Click on the "Start" button at the bottom of your desktop and select "Control Panel."
Step 3
Click on "Add or Remove Programs."
Step 4
Browse through all the software you have installed on your computer and uninstall anything that you no longer use or do not recognize. Highlight the program and click on the "Uninstall" button to remove it.
Step 5
Tip
This will work for any Windows operating system.