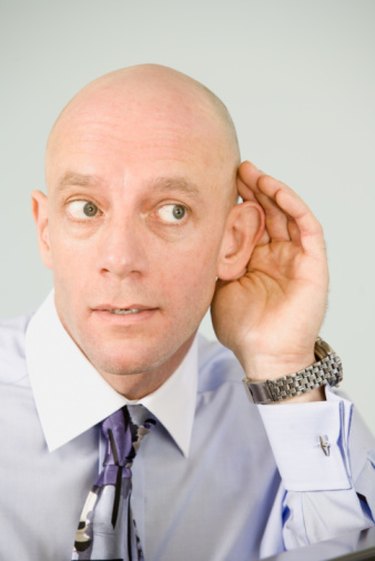 If your computer's sound card was working yesterday just fine, but today you hear nothing and you're getting the message "No Audio Output Device," it's a good bet that your computer's sound card drivers have been somehow "bumped" off your computer. This happens from time to time on desktop and laptop machines, although the reasons for bumped or "lost" drivers aren't always known or knowable. Fortunately, replacing the sound card driver files usually solves the problem with a minimum of effort.
Step 1
Double-check the source of the problem by typing "Win" and "R" to open the Run box. Type "dxdiag" into the box and click "OK." When you're asked if you want to allow the DX Diagnostics program to load, click "Yes."
Step 2
Click on the "Sound" tab. If your sound card's device drivers have indeed been "bumped off," you won't see any entry under "Name." Instead, the entry will say "No device loaded." If you do see that a device is loaded, click on "Test DirectSound." If the diagnostic tester is playing sounds but you still don't hear anything, it may be that your speakers are turned off, unplugged or broken, and there may be nothing wrong with your device driver at all. Otherwise, click on "Exit" to continue with this repair.
Step 3
Relocate your sound card device driver. If you have a recovery disc that came with your computer, the device driver file is located on this disc. Most laptop or desktop computer manufacturers use sound drivers from SoundMAX, Creative or RealTEK, so look for those files on the recovery disc. Copy the files to your computer. If you don't have a recovery disc, check your sound card manufacturer's website for the latest drivers. Download them to your computer directly.
Step 4
Click on the fresh sound card device driver "Install" or "Set Up" icon on your hard drive. Follow the steps to install the new driver. Reboot your machine so the drivers can take effect if prompted to do so by the setup routine. Make sure you have your speakers plugged in and turned on as you install the drivers and reboot.
Step 5
Navigate back to DX Diagnostics screen and check the "Sound" tab again. You should see your sound card listed now. Click on "Test DirectSound" and step through the various tests. If your sound card now passes, click on "Exit."
Step 6
Click on the "More Help" tab if you still don't hear sound coming from known-good speakers. Windows walks you through a few more tests to determine what could be wrong with your system.