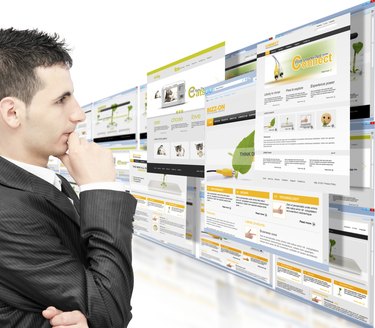 You can save time, taps and keystrokes by making a search engine, Web app or other website you frequently visit your default home page. If Internet Explorer opens a blank page whenever you click the "New tab" button, you can fix this behavior by changing the default home page from "about:Tab" to the page of your choice using the "Internet Properties" app.
Change to Your Default Page
Step 1
Click the "Tools" button and then "Internet options" to launch the "Internet Properties" app. You can also access "Internet Properties" through the Control Panel. Launch the Control Panel, click "Network and Internet" and then "Change your homepage" to launch the app.
Step 2
Click "Use default" from the General tab to change the home page tab to the default website. For example, at some time in the past, you may have chosen to make Bing, Google, or Yahoo as your default home page.
Step 3
Click the "Tabs" button, click the drop-down list labeled "When an tab is opened, open:" and then select "Your first home page."
Step 4
Click "OK" to close the "Tabbed Browsing Settings" windows and then "OK" to accept your home page change and exit the "Internet Properties" app.
Use the Current Web Page
Step 1
Type the URL of the website you want to use as the default home page tab in the address bar and then press "Enter."
Step 2
Once the Web page finishes loading, click the "Tools" button, then click "Internet options" and then choose "Use current" to set your home page to the current page.
Step 3
Click "OK" to accept the change and then exit the "Internet Properties" app.
Tip
Some malicious programs can hijack Internet Explorer and change the home page settings on Windows XP, Vista and Windows 7 systems. If your home page reverts to "about:Tabs" or some other Web page whenever you open a new tab, install and run an anti-virus program and another program for spyware. These utilities will search for and remove the offending program if possible. Windows 8 and 8.1 come with anti-malware software already installed.
Warning
Information in this article applies to Internet Explorer 11 and Windows 8.1. It may vary slightly or significantly with other versions of Internet Explorer.