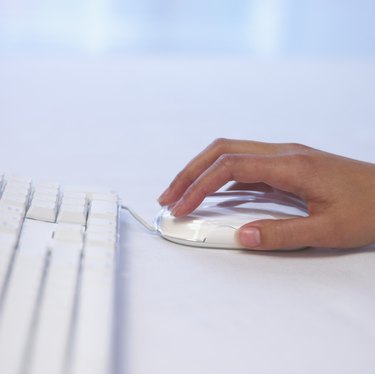 An erratic cursor is usually caused by a problem with your mouse rather than your software or operating system. The symptoms typically involve the cursor jumping around when you try to move it, making it difficult to click on the button or link that you are trying to click on. There are many possible reasons for the cursor to behave erratically, but you may be able to fix the problem without having to replace the mouse.
Fixing a Ball Mouse
Step 1
Unplug the ball mouse and turn it upside down.
Step 2
Locate the plastic ring around the ball of the mouse and gently turn it so that it becomes detached. The mouse ball should fall out.
Step 3
Clean the inside of the mouse. After some time, a good deal of rubbish will accumulate on the rollers. Carefully scrape this away before putting the ball back into the mouse and returning the plastic ring. You should find that your cursor now moves less erratically.
Optical Mice
Step 1
Ensure that your optical mouse is placed on a suitable surface. Most optical mice need to have a level, smooth and non-reflective surface to work on. Some of the most expensive models will even work on glass, although this is rare. For best results, use a mouse mat.
Step 2
Ensure that, if the optical mouse is wireless, there is no interference between the mouse and the wireless receiver. This includes other electrical or wireless devices. Ensure that the two components are well within range of each other.
Step 3
Try plugging the mouse into a different USB port. The driver will automatically be installed and you may experience better results.