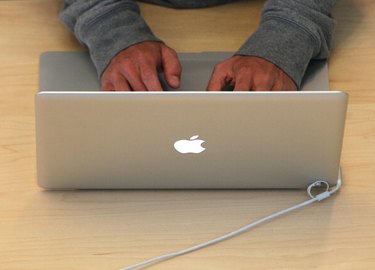 When viewing streaming videos or listening to music through iTunes, you might see a buffering message that interrupts your streaming content. This is often due to Internet congestion that slows down the overall performance of your connection. While your Internet connection is a major factor in the quality of the stream, your display and alternate applications also play a role in how your connection runs. The display settings affect the quality of video streaming. Higher resolutions require a large data transfer, while applications that connect to the Internet might interfere with the streaming file.
Step 1
Click "System Preferences" from the Apple menu on the desktop, then click "Displays." Click the "Display" tab and click a lower resolution in the Resolutions section. Click "Yes" to keep the new resolution, then click the red button in the top-left corner of the Displays window.
Step 2
Check your Internet connection. Unplug the power cable from your modem and wait 15 seconds for the device to power cycle. Insert the cable back into the modem, then click the refresh icon at the top of the browser window to restart the video or audio stream. If the problem continues, click the AirPort icon and select an alternate network or connect the Mac computer directly to the router or modem with an Ethernet cable for faster data transfer speed.
Step 3
Close all unnecessary applications. Present or background applications that connect to the Internet might be affecting your stream. Right-click or press "Control" on your keyboard and click the application's icon on the desktop dock, then click "Quit" to safely close the window. Click "Utilities" from the "Go" menu at the top of the desktop, double-click "Activity Monitor" to view actively running background processes. Click the process that has an icon next to it, then click "Quit Process."