One moment you are typing on your computer keyboard as usual, when suddenly a key sticks or does not produce a character on the screen. Perhaps you have a group of keys that suddenly stop working. Laptop and desktop keyboards alike can stop functioning due to a number of causes, most of which can be resolved by troubleshooting. Knowing how to fix some keyboard keys that do not work can save you time, and save you the cost of buying a new keyboard.
Initial Keyboard Key Troubleshooting
Disconnect and reconnect your computer keyboard, then restart your computer. Sometimes a poor connection can result in keys not working on your keyboard.
Update the device driver for your keyboard by going to the manufacturer's website of your keyboard, and then download and install the latest driver matching the brand and model number of your keyboard.
Disconnect your keyboard from your computer and inspect the pins in the keyboard connector if you have a PS/2 connector. The PS/2 connector for your keyboard has six pins, which connect into a PS/2 port of your personal computer, to allow for communication to and from your keyboard. Straighten any bent pins you may find, by gently using a ballpoint pen. You must replace your keyboard if you see broken pins.
Try testing your keys using a different application, such as another word processing program. Keys like the function keys on your keyboard labeled F1 through F12 may not work in one application but will work fine in another.
Clean Under Desktop Keys
Disconnect your standard desktop keyboard, then press down on a key not working. Slip a car key or a flathead screwdriver underneath the key. Twist the screwdriver or car key until the keyboard key pops off.
Use a damp cloth, moist cotton swabs or compressed air to remove dust, hair, and food crumbs under the key. Use only water or rubbing alcohol to moisten the cloth and cotton swabs—other cleaners can damage the plastic of your computer.
Position and press down on the key to snap it into place. Repeat this for all of the keys to clean underneath them, if necessary.
Clean Under Laptop Keys
Turn your laptop off, then use a flathead screwdriver or knife under a key corner, prying the key off gently. You will hear a snap as the key detaches.
Remove the key retainer remaining on your laptop using your knife or screwdriver under the corner, then popping it off with a gentle twist.
Remove the space bar by pulling it off after your insert the screwdriver or knife underneath the bar.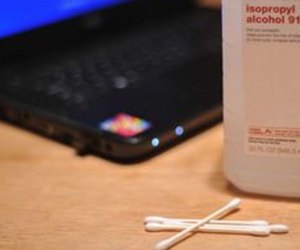 Clean underneath your laptop keys using cotton swabs or a soft cloth dampened with water or alcohol. You can also use compressed air to remove dust, hair and other debris.
Replace your laptop keys by placing the key retainer into position. If you cannot remember the position, copy another retainer's position by removing another key. Insert the keypad into the retainer, then position the key over the retainer while pressing down on the key. You should hear the key snap into place. Place your laptop's space bar over the space bar slots, then snap it into place.