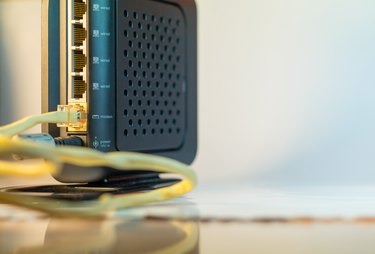 Mediacom is a cable TV and internet provider. If you find your Mediacom internet not working, you can try to examine your devices and see if they're giving any warning signals. Try resetting and reconnecting your router and modem. If all else fails, contact Mediacom for help.
Mediacom Internet Connection Problems
If your Mediacom internet service stops working, it could be due to Mediacom internet modem problems, problems with your wireless router or a problem with your connection to Mediacom.
There are a few ways to diagnose what the problem may be. If you're connecting through Wi-Fi, see if any devices in your home are receiving a wireless signal. For example, a computer may be receiving a signal while a cellphone is not. If some devices are receiving a signal but not all, try resetting the wireless router and any devices with signal problems.
If that doesn't help, it may be a problem with the device that's not receiving the signal. Try using it on another wireless network to see if the problem is with the device or your router. Also try moving it closer to the router in case the signal is too faint.
Mediacom Wireless Router Problems
If no devices are receiving a wireless signal, it's likely a problem with the wireless router. Reset the router using its power switch or unplug it from the wall, wait a bit and plug it back in. Make sure any cables connected to it are secure.
If, even after rebooting the router, no devices are able to connect to it, there may be something wrong with it. If there's a button to restore it to its factory settings, you may wish to try this. If you're not comfortable doing so or that doesn't work, you can contact the router manufacturer for assistance.
If you rent the router from Mediacom, you can also call Mediacom for help with it.
Mediacom Internet Modem Problems
If you can connect to the wireless network but just can't get on the internet, this may be a problem with your Mediacom internet modem. Check the modem to see if it's displaying any error messages or lights.
Reset the modem and see if this resolves the issue. Make sure it's securely plugged into the wall, into the router and into the cable connection. If you have a computer with the appropriate jack, you can try plugging it directly into the modem rather than wirelessly connecting to see if this resolves the issue.
If you can't get a signal, it may be a modem problem or a problem in Mediacom's line. Check Mediacom's online outage map or call Mediacom for assistance.