Before a hard drive can be used by an operating system, it has to be formatted with a format type that the hard drive can recognize and use. This can be done using system utilities when an operating system is installed, but if there is no operating system installed on the computer you wish to format the drive on, this obviously isn't possible. Luckily there are a number of utilities that can be used to format a hard drive with no operating system on it, and the process to do so is relatively simple.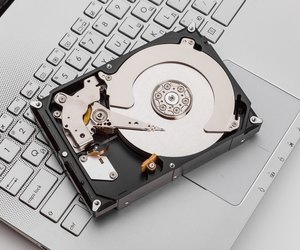 credit: Gilmanshin/iStock/Getty Images
Step
Open your computer's CD or DVD drive. Place the installation disc for the operating system into the drive; if you don't plan on placing an operating system on the computer at this time, place a disc containing a partition manager into the drive instead. Close the drive door.
Step
Reboot the computer. When the computer's BIOS loads, press the hotkey to activate the boot manager, generally "Esc," though occasionally other keys such as Tab or F8. The hotkey should be listed on the BIOS screen. When the boot manager loads, select the drive that you placed the OS installation disc or partition manager disc in and press "Enter."
Step
Wait for the OS installer or partition manager to load. Once loaded, select the "Format" option when prompted and choose the drive that you wish to format. Click the "OK" button to begin formatting; the formatting process may take 30 minutes or longer, depending on the size of the drive that you are formatting.
Step
Once the format is complete, you may continue with the installation of the operating system if you are using an OS installation disc. If you are not using an OS installation disc or do not wish to install an operating system at this time, simply exit the program that was used to format the hard drive and shut down the computer.