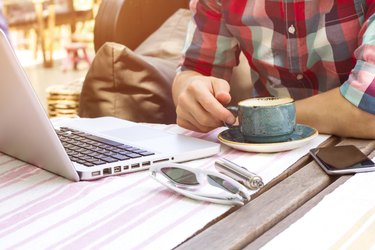 Although Word 2013's Compatibility Mode lets you open and work on documents created with previous versions of Word, certain advanced editing features are locked out, preventing you from taking full advantage of Word 2013's power. You can, however, convert the document that you are working on into a DOCX file, which forces Word 2013 to get out of Compatibility Mode and give you full access to all editing features.
Step 1
Press "Alt-F" to open the File side-bar, then click the "Info" side-tab.
Step 2
Click the large square button labeled "Convert" next to Compatibility Mode.
Step 3
Click "OK" on the confirmation pop-up box. The title bar of the document window should now display only the name of the document, indicating that Word 2013 is now out of Compatibility Mode.
Tip
Since converting the file changes its file format and has the potential to introduce minor layout problems, you can instead create a new copy of the document to work on out of Compatibility Mode. Press "Alt-X," click "Save As" and then select a storage location. Use the pull-down menu next to "Save As," select "Word Document (.DOCX)" as the file format and then click "Save." You can now work on the newly saved document out of Compatibility Mode, and also have a backup of the file in its original format in case something goes wrong.