Did you ever want to download a video from YouTube? Maybe you have found numerous web sites that give you a way to download YouTube videos, but only provide an "flv" file. In this tutorial I will show you how to download an "mp4" YouTube video of your choice.
Step
Open up your web browser and navigate to "YouTube.com". I will be using Firefox. You could use any browser, but beware that steps may differ if you are using some other browser.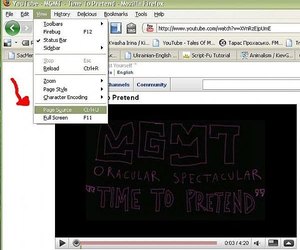 When you are on the page that plays the "YouTube" video of your choice, press "Ctrl+U" or go to "View>Page Source" at the top left, to take a look at the page's source code.
Step
When Firefox window with lots of code shows up, minimize it for a later use. Also create a new text document, somewhere on the desktop (for easy reference) and call it "youtube.txt". I will be using the default Windows text editor - "Notepad". You may use your favorite text editor.
Step
Copy and paste this:
http://www.youtube.com/get_video?video_id=ID&t=SIGNATURE&fmt=18
into "youtube.txt"
Step
Now open up the window with the code for the "YouTube" video page. Press "Ctrl+F" and you should see a small bar appear at the bottom of the window; cursor should be focused in text field, that is labeled "Find:" (which means you can start writing your search query).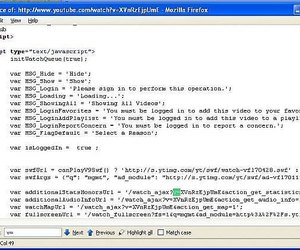 Now type in "v=" and your query should be immediately highlighted in the code. Next, carefully highlight text right after "v=" until you reach the ampersand ("&"). After highlighting, copy the text(i.e. press "Ctrl-C"). Paste the text somewhere inside the "youtube.txt" file.
Step
Now repeat step 6, with the following adjustments: search for "&t=". Update ( August 22, 2009 ): Now search for "t": (quotation mark, tee, quotation mark, colon).
Thank you chitwant for using my tutorial and reporting an outdated information!
Last and most important step. Inside "youtube.txt" replace ID and SIGNATURE with the text from Step 6 and Step 7 respectively. Your result should look like this:
http://www.youtube.com/get_video?video_id=XVnRzEjpUmE&t=OEgsToPDskLFPxyKt7R1RnuTBDGeY4UZ&fmt=18
Now you can copy and paste the above URL into your browser's address bar. Press "Enter" and save the video.