When you visit a website containing an embedded MP3 or click a link directly to an MP3 file in Firefox, the browser streams the audio. This allows you to hear the song without waiting for the entire file to download, but it doesn't save the MP3 to your computer for later playback. You can manually download an individual MP3 while streaming it or disable Firefox's playback tool entirely to force a download prompt every time you click an MP3 link.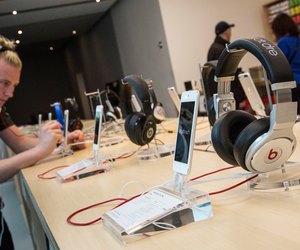 credit: Andrew Burton/Getty Images News/Getty Images
Download a Single MP3
Step
Visit a Web page containing an embedded MP3 file and locate the audio control bar on the website. When opening a direct MP3 link, the control bar appears in the center of an otherwise blank page.
Step
Right-click the control bar and pick "Save Audio As..."
Step
Enter a name for the MP3 file and choose a location on your computer. Press "Save" to download the song.
Always Prompt to Download MP3s
Step
Enter "about:config" (without quotes) in Firefox's address bar. If a warning page appears, click "I'll be careful, I promise!"
Step
Paste or type "media.directshow.enabled" (without quotes) into the search bar at the top of the page -- not the Firefox search bar used to search the Web.
Step
Double-click on the "media.directshow.enabled" preference in the search results to toggle it to "False."
Step
Search for the preference "media.windows-media-foundation.play-stand-alone" and toggle it to "False" as well.
Step
Open any MP3 link and you'll see a download prompt, just as when you open links to most other types of files. Select "Save File" and press "OK."