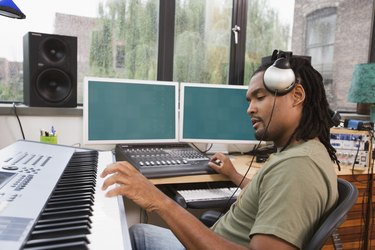 MPEG Layer 3 audio files, also known as MP3s, are one of the most common audio formats for all computer and portable media device users. Whether using Windows or a Mac platform, you probably already have a program installed on your system--Windows Media Player (WMP) or iTunes--that supports MP3 conversions to a number of audio formats. WMP will convert your MP3s to WMA or WAV files, while iTunes will convert to WAV, AAC and AIFF audio formats. If you have neither program, you can try an online converter like Zamzar, which converts audio files free of charge and requires no downloaded software.
Windows Media Player Conversions
Step 1
Launch Windows Media Player. Open your MP3 audio file in WMP by dragging and dropping your MP3's icon directly into the Windows Media Player library.
Step 2
Click the "Burn" tab at the top of the main screen in Windows Media Player. Insert a blank CD into your computer's disc drive and click "Start Burn" to burn your MP3 to a CD. Wait for your CD to burn.
Step 3
Click the "Rip Settings" menu and press the "Format" tab. Choose one of the output formats for your audio.
Step 4
Press the "Rip CD" button to re-import the MP3 on your CD to the correct format in Windows Media Player. This may take a moment. You will find your converted file in your Windows Media Player library next to your MP3 file.
iTunes Audio Conversions
Step 1
Open your web browser and visit the main iTunes download page (if you do not already have iTunes). Click the free "Download" button to download the latest version of the software. Wait for your download to finish and double-click the installation file. Accept the terms of use and open iTunes.
Step 2
Click "Edit" > "Open Files..." to enter a Windows Explorer search screen. Find the input MP3 file you want to convert and click "Open" to load it in iTunes.
Step 3
Click "Edit" > "Preferences." Press the "Import Settings" button on the right side of the new window.
Step 4
Press the "Import Using" drop-down box and select an output format for your MP3 file (e.g., "WAV Encoder," "AAC Encoder"). Click "OK" twice to exit and go back to the iTunes library.
Step 5
Right-click your MP3 file to reveal a list of options. Select the "Create..." option, depending on the output format you previously chose. For example, if you chose "WAV Encoder," the "Create WAV Version" will appear when you right-click your MP3 file.
Wait for your file to convert. It will appear directly beneath your old MP3 file in the iTunes library.
Converting MP3s Online
Step 1
Open your web browser and visit an online conversion site like Zamzar.com. Click the "Convert Files" tab in the middle of the page.
Step 2
Press the "Browse..." button to open a pop-up window revealing the contents of your computer. Navigate to the MP3 you want converted and click "Open."
Step 3
Choose an output format from the drop-down list of output options. Formats include AAC, AC3, FLAC, WAV and WMA.
Step 4
Type your email address in the "Email" field. Zamzar will send you an email alert containing a download link when the conversion is done.
Step 5
Press the "Convert" button to accept the terms of use and begin uploading and converting your file. Do not leave the page until Zamzar has completed uploading your MP3 file. Wait for your email notification and click the "Download" link embedded in your email to download your converted audio.