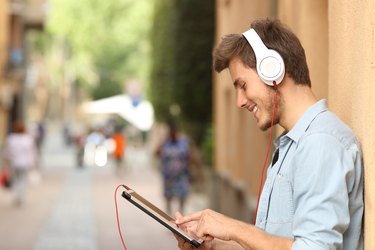 VLC Media Player is a free, powerful video player and converter that runs on both the PC and Mac platforms. VLC can easily convert MOV QuickTime videos to an AVI format. AVI is a container format that can use any of several different compression methods, or codecs, including the popular DivX and Xvid codecs, which provide greater compression while preserving audio and video quality. To convert a MOV to an AVI in VLC, configure the conversion settings in the program.
Step 1
Download the latest version of VLC Media Player from VideoLAN.org. Double-click the downloaded installation file and follow the on-screen setup instructions. Agree to the terms of use and launch VLC Media Player.
Step 2
Click the "Media" menu in the top-left corner of the VLC window and select the "Convert/Save" option. Click the "File" tab in the "Open Media..." window.
Step 3
Click the "Add..." button. Navigate to the input MOV in the pop-up search screen. Highlight its icon and click "Open" to return to the "Open Media" screen. Click the "Convert/Save" button in the lower-right corner of the screen.
Step 4
Click the "Browse" button and choose an output location for the AVI file. To save it in the same directory as the original MOV file, copy and paste the location from the "Source" field into the "Destination File" field. Replace the ".mov" file extension with an ".avi" extension.
Step 5
Click the "Create a new profile" icon next to the "Profile" box to configure the AVI output settings. Type a new name into the "Profile Name" box and choose the "AVI" encapsulation method.
Step 6
Click the "Video Codec" tab and choose a compression option, depending on your needs. Commonly supported compression formats include "DivX" and "MP4."
Step 7
Click the "Audio Codec" tab and choose "MP3." Click "Save" to return to VLC's "Convert" menu.
Step 8
Select the newly created profile from the "Profile" drop down box and click "Start" to convert the video.