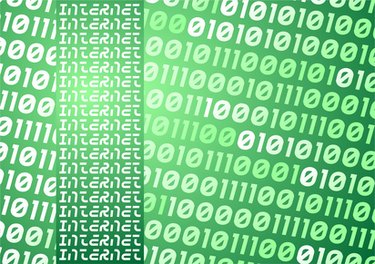 Under normal circumstances, your Internet service provider (ISP) has the capability of knowing everything you do online. This includes where you've been, what data was transferred, and which remote files were accessed. ISPs are known to block entire domain blocks, and some even "tag" users for visiting specific sites. The best way to keep your ISP from electronically watching over your shoulder is by using a proxy server. A proxy server serves as a middleman between you and the server you ultimately wish to access. There are two choices, each with its strengths and weaknesses: web proxies and Internet proxies.
Web Proxy
Step 1
Find a public web proxy to use, many of which are free. The best way to find a public web proxy is through a proxy checking system, such as Public Proxy Servers, that provides real-time statistics about the currently available web proxies. Alternately, you can find a web proxy yourself, like the popular BTunnel.com.
Step 2
Choose a public web proxy that offers Secure Socket Layer (SSL) encryption. Most checking systems will state whether a listed web proxy is SSL enabled. As of 2010, SSL is the industry standard for consumer Internet encryption, and it will ensure your ISP can't read any of the data between you and the web proxy.
Step 3
Enter the URL you wish to visit into the provided address field on the proxy site. This instructs the web proxy to fetch the page for you, and then forward the information to your computer through an encrypted connection. All the web surfing done in this window will be secure until it is closed, as long as you use the address field provided by the proxy.
Internet Proxy
Step 1
Find an Internet proxy to use. There are fewer Internet proxies than web proxies, and Internet proxies usually charge a monthly or annual fee to use their services, such as the service Secure-Tunnel. This is because Internet proxies encrypt all of your Internet traffic, instead of just web traffic through your browser.
Step 2
Purchase, download and install the proxy software. Unlike the web proxies, you need to use connection software provided by the Internet proxy service. This is to ensure that regardless of the protocol you use (such as FTP and SMTP), your computer accesses the Internet only through connections to the proxy server itself.
Step 3
Accept the Terms of Service and run the proxy software. Follow all instructions, and read the documentation provided with the software. This will help make the installation and first run easier.