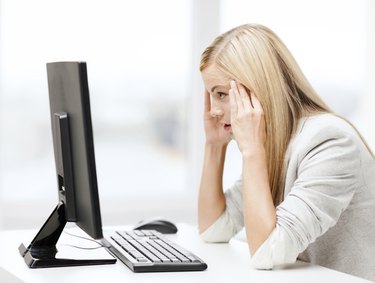 Text-based content in an InDesign document is riddled with a variety of non-printing characters that represent spaces, paragraph breaks, tabbed indentations and other formatting markers. These characters are helpful when performing complex formatting changes -- for example, when you need to distinguish between hard and soft line breaks or change the distance between center-aligned tabs. When you don't need to see these marks, however, the symbols can be hidden from within the main layout interface or while using the Story Editor feature.
Hiding Paragraph Marks within Layout
Step 1
Select the "Type" menu at the top of the screen.
Step 2
Select "Hide Hidden Characters" to turn off the visibility of the non-printing formatting characters.
Step 3
Disable Preview mode if your hidden characters still appear. To do so, select "View" and then "Overprint Preview."
Hiding Paragraph Marks within Story Editor
Step 1
Launch the Story Editor feature by selecting a text frame and then clicking "Edit" followed by "Edit in Story Editor."
Step 2
Click the "View" menu and select "Story Editor."
Step 3
Select "Hide Paragraph Break Marks" to disable the characters' visibility.