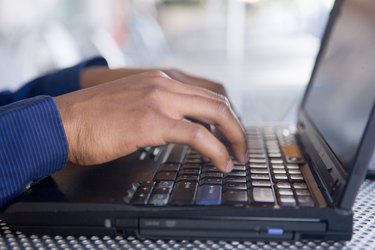 A CSV file, or comma separated value file, is a simple spreadsheet file that displays data in a tabular format. Making a CSV file entails creating a text file and separating each data field with a comma or other simple character, such as a tab or space. Although you create the CSV file as text, importing software programs read these files as spreadsheet tables. OpenOffice contains both a text application called Writer and a spreadsheet application called Calc. You must import the CSV file into OpenOffice correctly so that data opens in the Calc application and not in the Writer application.
Step 1
Open OpenOffice and select "Open a Document" from the start-up screen. If you already opened OpenOffice, select "Open" from within the "File" menu.
Step 2
Click on the "Files of Type" box. This will open a long drop-down list of possible file types that OpenOffice supports. Scroll to approximately halfway down the list and select "Text CSV."
Step 3
Browse through the directories on your computer to find the directory where the file is located. Click on the file name and click the "Open" button. This will open a Text Import screen where you will select file attributes.
Step 4
Input the line number of where the tabular data begins into the From Row box if your table does not start from the first line. For example, if the first line of the file contains a document title, the second line contains date and author information and the tabular data begins on the third line, enter "3" in the input box.
Step 5
Select the character that separates each data field in the file by checking the character name located under the Separated By heading. For example, if your file separates fields with a tab character, check the "Tab" box. If the separating character is not listed, check the "Other" option and type the character into the associated text input box.
Step 6
Click the "OK" button for OpenOffice to interpret the file and import it into OpenOffice Calc.