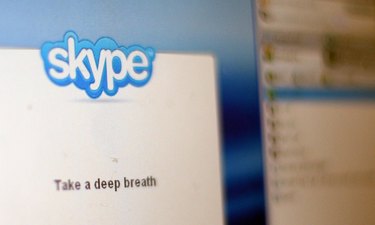 Skype provides three primary services for its international community of users: messaging, phone calls and video calls. Much of the site's popularity can be attributed to its free video calling service, but users can also take advantage of the application's instant messaging client. The feature allows one-on-one chats between accepted contacts, as well as group chats with multiple users communicating at once. Additionally, users can share instant messages during both Skype-to-Skype calls and video calls. Like most popular chat services, Skype has a unique set of emoticons that can be imported via certain short strings of text.
Step 1
Log in to your Skype client. Skype's emoticons are not supported by many of the mobile applications, so you will want to use the standard desktop application.
Step 2
Start a new chat with one of your online contacts, or a group of your contacts, by clicking the person or group and entering text in the indicated field. Skype emoticons work in both individual chats and group chats. If you want to open an instant message field during a Skype-to-Skype call or a video call, click the IM button, indicated by a white box with a black arrow pointing upward.
Step 3
Click the emoticon button in the upper left, and select from the basic animated emoticons. Many of the available emoticons in this box are standard, such as smiles, frowns, blushes and confused looks.
Step 4
Enter the appropriate strings of parenthetical text and symbols to use emoticons, as well. Although you can enter traditional emoticons like ":)" for a smile, Skype offers dozens of hidden emoticons that are not displayed in the primary emoticon selection box. For example, "(U)" displays a broken heart and "(london)" inserts a raincloud. Meanwhile, "(poolparty)" is more self-explanatory. Experiment with various phrases or browse a comprehensive list at skypeemoticons.net to import a wide variety of Skype emoticons into your chats.