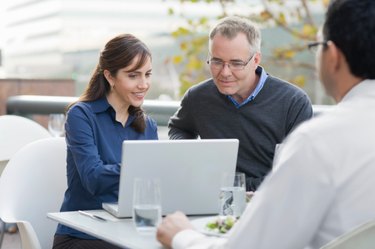 Whether you want to temporarily or permanently increase the size of items on your screen, your operating system will help you see the text and images more clearly. Both Mac and Windows computers feature quick zoom keyboard shortcuts to increase and decrease size. The Windows 7 Accessibility Center features a magnifier for larger text and images, or you can change your screen resolution to make items larger by default. Mac OS X has a program called Zoom to increase text and image size.
Windows Magnifier
Step 1
Click "Start," then select "All Programs" followed by "Accessories."
Step 2
Select "Ease of Access," and then "Magnifier."
Step 3
Choose your magnification level from the window that opens.
Step 4
Choose "Full screen mode" to increase the size of the whole screen, or mouse over the area you want to increase: the text and images in that area will become larger in the magnification rectangle.
Windows Default Size
Step 1
Click "Start" and select "Control Panel" followed by "Adjust screen resolution," which appears in the "Appearance and Personalization" category.
Step 2
Choose "Medium" to magnify everything to 125 percent, or choose "Large" to increase to 150 percent.
Step 4
Restart your computer or log out of Windows and then log back in to apply the new setting. This setting may not increase all images, as it is designed primarily for text sizing.
Mac Zoom
Step 1
Click the "Apple" menu and choose "System Preferences."
Step 2
Select "Universal Access" in the "System" area.
Step 3
Click the "Seeing" tab, then click the "On" button next to "Zoom."
Step 4
Click "Options" in the "Zoom" area and follow the onscreen instructions to modify the "Zoom" settings.
Step 5
Click "Done" when you are finished with the settings.