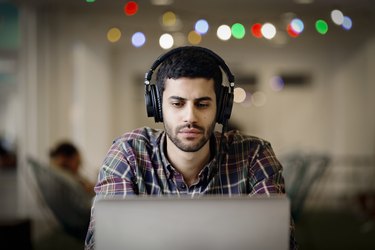 Listening to local police frequencies online can help you stay informed of what's happening in your neighborhood, and you have several options that include broadcasting websites and police scanner apps. But before you start listening to free live police scanner broadcasts online, you'll want to check about the legality of listening to police scanners in your location. Also, keep in mind that some police departments now encrypt their scanners due to concerns about privacy and safety, so your local station may be unavailable.
Check for Laws First
ZipScanner notes that you can legally have a police scanner but warns that some states have restrictions on where and how you can use them. For example, Florida, New York and Indiana are among the handful of states that don't allow you to listen to police streams while you drive. However, some states like Minnesota allow you to do so if you're a licensed radio operator. Further, several states including California, Virginia and Michigan will charge an additional fine or give you more jail time if you listen to police scanners in order to assist with a crime.
Use Websites Streaming Police Frequencies
If you want to listen to a local police scanner online without having to download any app, you can try checking online radio streaming services that have a built-in player on the page or in a pop-up window. You can usually listen for free with some ads played, or you can get a premium subscription to avoid commercials. Some of these options include:
Broadcastify: This website is one of the most well-known free options for listening to fire, ambulance and police scanners. It features an easy-to-use search tool that lets you browse police radio stations by state, city or zip code and will usually present multiple options in your county. As a bonus, the site's listening pages have a list highlighting major events from the broadcast.
TuneIn: While this website is known more for broadcasting music, sports and news stations, it also hosts several police frequencies around the country. However, it has a smaller selection and will require you to search by a keyword rather than filter by location.

Streema: As of 2019, this website hosts over 1,400 police scanner stations from around the world. It has a dedicated police scanner listing page that you can filter by location as well as search for a specific city.

Your local police department's website: Although it's less common, some local police departments put a link to listen to their scanner on the main page of their website.

Try Police Scanner Apps
You also have several free and premium apps for Android and iOS that will allow you to listen to police scanners in your area. These apps usually automatically locate the nearest stations for you and support favorites lists to save time later. A few popular choices include:
Broadcastify Police Scanner: Using the same database as the popular website, this Android and iOS police scanner app lets you hear your local police frequencies and can send you notifications when something major happens. You can even listen to recordings from up to six months ago if you have a premium Broadcastify membership.

5-0 Radio Police Scanner: This free app has a somewhat smaller list of police frequencies than Broadcastify but supports alerts and has a chat feature. You can also add a link to your police scanner feed from another source if the app doesn't have it already.

Scanner Radio: This Android and iOS app mostly uses streams for police frequencies taken from Broadcastify. It comes with audio balancing features to make listening more comfortable.

Scanner 911: This free Android app locates nearby police frequencies, supports in-background listening and comes with a list of police codes that make it easier to understand the broadcasts.