Listening to police frequencies online is easier than using a handheld radio. With a handheld, you have to fine tune each channel out of hundreds just to find the right one. Even if you know the exact frequency, your listening experience depends on your physical position and the position of your antenna. Online sources like Broadcastify and 5-0 Radio Police Scanner do all the tuning for you, so you can listen to radio frequencies all over the world with just a computer or a smart device.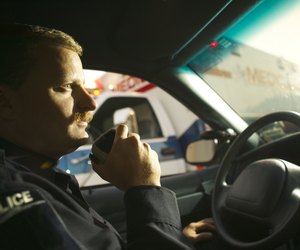 credit: Thinkstock/Stockbyte/Getty Images
Online Radio Scanning
Step
Connect to the Internet and open any Web browser.
Step
Visit the Broadcastify website. You can also listen to police scans from RadioReference.com, Tune In or Streema, but many radio sites use Broadcastify as their primary scanning source.
Step
Select the location you want to scan. You can browse through an entire state or narrow it down to a specific ZIP code.
Step
From the results list, find a police dispatch channel for your desired location and select the media player you want to use to listen.
Step
Click the "Play" button in the Listen column.
Scanning From a Smart Device
Step
Download the 5-0 Radio Police Scanner app. Other good apps are Police Scanner and Police Radio. All these apps are available for Android, iPhone, iPad and Windows devices.
Step
Open the 5-0 Radio Police Scanner app and select "Browse Scanner Feeds."
Step
Select your desired location. For most apps, the location can be anywhere in the world.
Step
Select a police dispatch channel.