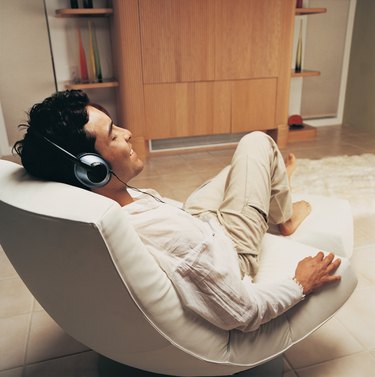 With new technological advances, you can find more options to listen to the radio than ever before. Your iPhone can deliver personalized radio stations and access to live broadcasts locally and around the world. With services such as iTunes Radio, Pandora, iHeart Radio and your local affiliates, you can enjoy hours of new -- and classic -- music on your mobile device.
ITunes Radio
Look for Apple's iTunes Radio in the Music app on your iPhone running iOS 8. The app features an ever-changing selection of featured stations such as ITunes Weekly Top 50, Pure Pop, Jazz Chill and Workouts to several music genres. These are Apple-curated lists and play continuously like traditional radio. You can create a station by typing in the artist or genre of your choice in the search box. To customize your station, select one of the options while a song is playing: You can click the tab "Play More Like This," "Add to Wish List," or "Never Play This Song Again." ITunes Radio also features previews of entire albums and celebrity guest DJs have included Katy Perry, Tegan and Sara, and Bruno Mars.
Pandora
Pandora is a service that is similar to iTunes Radio; it thrives on your selections. With Pandora you are essentially the deejay. The Pandora app allows you to give a station's track favorable reviews -- thumbs up -- or not so favorable reviews -- thumbs down. As you actively engage with Pandora from station to station, the choices it plays for you evolve. Pandora offers not just music but comedy stations as well. Pandora also provides complete streams of albums before their official release date through its Pandora Premieres station. Pandora doesn't currently support live radio streaming.
IHeart Radio
With the iHeartRadio app, you have a service that is similar to iTunes Radio and Pandora in that you can create personalized stations. However, iHeart Radio features over 1,500 live radio stations. You can select your own area or search for stations across the country. IHeart Radio utilizes the thumbs-up thumbs-down system for helping the radio provide the best music choices for you. Genres include pop, country, urban, rock, talk and college.
Your Local Affiliates
When searching for music, you don't have to go globetrotting for content. You can check the Apple App Store to find if your local stations have corresponding apps. With these apps, you can listen live in some cases or download podcasts for offline listening. Additionally, you can do an Internet search online for your favorite radio station and stream the content directly from your Safari Web browser. The key to listening to local stations is to use a variety of sources from around the Web as well as resources found in the Apple App Store.