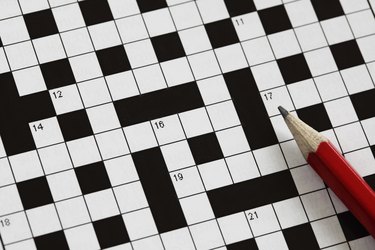 Crossword puzzles are excellent mind-flexing activities and serve as effective teaching tools -- and you only need Microsoft Word to create your own. Microsoft Office 2013 offers a variety of templates that may help you build a table, but you can also create your own puzzle from scratch. You may find it easier to sketch out the puzzle beforehand and then use Word to put it together.
Using a Template
Step 1
Open Microsoft Word and click the "File" tab. Click "New." This will show you your existing templates and provide you with a bar to search for templates online. Alternatively, you can download a template from a third-party website, just make sure it is in a Word format.
Step 2
Type "crossword" in the search box provided and press Enter or click the magnifying glass icon.
Step 3
Double-click the template you want to download. If you plan to use this template multiple times, save your file first with a general title, such as "Crossword Puzzle Template." Save it a second time with the name or subject of your crossword puzzle.
Step 4
Remove all of the sample text located in the clue section and fill in your clue information.
Starting Without a Template
Step 1
Determine the layout of your crossword puzzle and write down its length and height. Click on your Word document where you would like the puzzle displayed.
Step 2
Click the "Insert" tab and then click the "Table" button. Select "Insert Table" from the drop-down menu. This will open up a table menu for your puzzle.
Step 3
Enter the number of columns and rows. Click the "Autofit to Window" button so that your columns are adjusted to the width of your paper and are of equal size.
Step 4
Click "OK" to insert the table.
Step 5
Click below your table and write the word "Clues."
Step 6
Type "Across" in the next line and then write out all of the "across" clues for your puzzle. Put each new clue on its own line. If you already know the numbers for each clue, write it at the beginning of the clue. For example, your clue for "banana" may look like this: "1. Long yellow fruit."
Step 7
Type "Down" on the next line and then write out all of your puzzle clues. Add a number to each clue if you already know them.
Finishing Your Puzzle
Step 1
Select a cell on your table that should be blacked out. In the Table Tools tab, click the "Design" tab and then click the down arrow next to the Shading button. Select the color black.
Step 2
Fill the remaining tiles that should be black by selecting them and then clicking the paint can icon next to the Shading button. Alternatively, you can press the "F4" key instead of clicking the paint can icon. F4 will repeat the last action you took in Word, so this method will work until you use another function.
Step 3
Add extra rows or columns by right-clicking on a cell and selecting one of the options in the Insert menu that pops up.
Step 4
Add the numbers to the white puzzle boxes to go with your clues. Always start with the top left and then work your way across a full row before going down a column. If you didn't know the numbers before you made the puzzle, add these numbers to the appropriate clues.
Step 5
Save your puzzle and then fill it out to make sure each clue has enough space and every puzzle answer fits appropriately.