Microsoft Word's online templates enable you to create lined paper for handwriting and notations. Adapt these time-saving templates with the ribbon tools to enhance the design and layout. For example, some templates include the Table Tools ribbon to help you style the lines, such as rows of thin, solid lines, or alternating rows of solid and dashed lines on a colorful grid table. Save your customized templates with the advantage of quick access to almost unlimited printouts for your next task.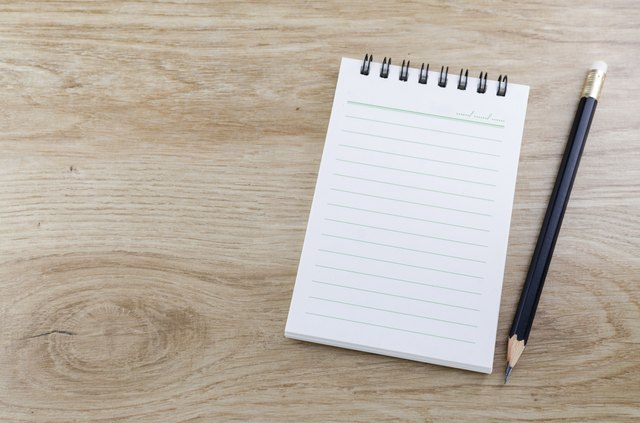 credit: Apiruk/iStock/Getty Images
Copy the Template
Step
Click the "File" tab on the command ribbon, select "New" to open the New templates list and then enter "lined paper" (without quotations) in the "Search for online templates" box. Press "Enter" to bring up the filtered thumbnails.
Step
Select "Lined Paper" in the Category pane to display a more refined list of Word thumbnails. Examples include "Handwriting Practice Paper (Intermediate)," "Music Staff Paper (8 Per Page)" and "Patient Progress Notes (Online)."
Step
Select a thumbnail to view an enlarged version with a description, download size and rating.
Step
Click "Create" or "Download" to copy the template to a Word document. The Table Tools ribbon displays the Design and Layout tabs alongside the ribbon commands to enable you to customize your lined paper document.
Customize the Template
Step
Click the body of the document and then click the "Design" tab on the Table Tools ribbon. Click the "More" arrow button in the Table Styles group to open the chart and then point over a thumbnail in the Table Styles group to preview an updated template thumbnail. Examples of Table Styles include "Grid Table Light" in the Plain Tables section, and the light blue "Grid Table 4 – Accent 1" in the Grid Tables section. Select the preferred style to update the design.
Step
Edit your document with the tools on the Home tab. For example, select the text and then select "Font Color" in the Font group to update the color with a lighter tint.
Step
Press "Ctrl-S" to save this Word document.
Step
Press "Ctrl-P" to open the Print window and select the Printer and Settings options. The Page Setup link includes options on tab sheets: Margins, Paper and Layout. Click "Print" and check this first printout before printing additional lined paper.