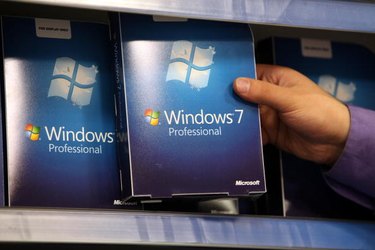 The "R" in DVD-R generally stands for "Recordable-only," one time, forever. The "RW" in DVD-RW stands for "Rewritable," meaning it is recordable and erasable for the life of the disc. But when Microsoft released Windows XP in late 2001, this and later operating systems changed the fundamentals of DVD-R versus DVD-RW. Traditionally, after users burned a DVD-R disc, it was formatted, or "mastered" to play in nearly all disk drives and players. However, you can use a different format that will keep disc burning functions "alive" for future writing sessions.
Step 1
Insert the blank DVD-R into the drive in the PC. Exit out of any "AutoPlay" or similar dialog boxes that show on the screen.
Step 2
Click "Start" on the taskbar at the bottom of the desktop. Type "Windows Explorer" in the search box at the bottom of the "Start" menu. Press "Enter" to open a window.
Step 3
Find the "Computer" icon at the bottom of the left pane in the window. Click on the drive letter (C, D, E) that is assigned to the DVD drive in the PC. Wait for the "Burn a Disc" dialog box to open.
Step 4
Type in a name for the DVD disc in the "Disc Title" section, such as "My DVD-RW" disc.
Step 5
Fill in the radio button next to "Like a USB Flash Drive." Click "Next." Wait while the Windows operating system formats the DVD-R disc to function like a DVD-RW (rewritable) disc, flash drive or memory card. The background of the right pane will show the following message: "Drag Files to This Folder to Add to the Disc." However, if you are not ready to burn files to the DVD, click on "Close Session." Allow Windows to finish the current "writable" session. A notification message will appear from the taskbar indicating "Disc Ready."
Step 6
Reinsert the DVD in the drive when you are ready to write files to the disc. Open Windows Explorer and then click the DVD drive's letter in the left pane. Find and drag your files to the center pane. Wait while Windows burns those files to the disc. Click "Close Session" when the process is complete. Repeat this step to write to the DVD-R disc in future burning sessions.