Absolute value indicates how far a number is from zero, regardless of whether it is negative or positive. The sign for absolute value is enclosing a number or variable inside two "|" symbols, known as pipes. For example, you write the absolute value of -11 as |-11|. The value of |-11| is 11, because -11 is 11 away from zero. Standard keyboards include the pipe symbol, so you can type the absolute value sign directly from the keyboard.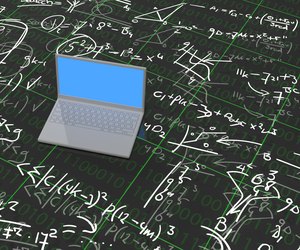 credit: tonymelony/iStock/Getty Images
Step
Open the word processing document, Web page or other location into which you want to type the absolute value sign.
Step
Hold down the "Shift" key. Press the "|" key on your keyboard, which usually shares a key with the backslash, or "\", symbol.
Step
Type the number or variable that you want to represent in absolute value, such as "-11" or "a."
Step
Hold down "Shift" and press the "|" symbol once more.