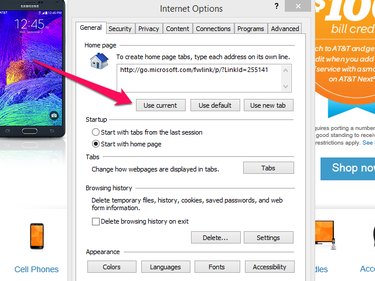 Setting AT&T's website as your browser's home page can help you keep up-to-date with the company's latest news and promotions. All three major browsers under either Windows 8.1 or 7 -- Google Chrome, Mozilla Firefox and Microsoft Internet Explorer -- let you customize your home page by editing the browser's settings.
Google Chrome 41
Step 1
Launch Google Chrome and click the Menu icon to open the Customize and Control Google Chrome menu. Select Settings.
Step 2
Select Open a specific page or set of pages and click Set pages.
Step 3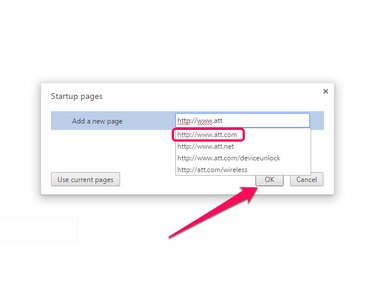 Enter http://www.att.com in the Add a new page field and click OK to finish editing your settings.
Mozilla Firefox 37
Step 1
Step 2
Click on the Globe icon next to the website's address and drag it to the Home icon in the browser's toolbar.
Step 3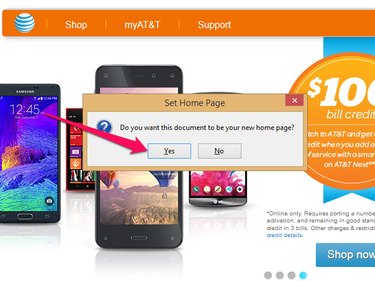 Select Yes to make AT&T's website your new Firefox home page.
Internet Explorer 11
Step 1
Step 2
Open the Cog menu and select Internet options.
Step 3
Select Use current to set your default home page to AT&T's home page.
Step 4
Confirm your new home page settings by clicking on Apply and selecting OK.
Tip
You can enter more than one page in Chrome's "Add a Page" field. If you do, Chrome automatically opens all selected pages in separate tabs each time you launch the program. Like Chrome, Internet Explorer lets you open multiple Web pages automatically upon launch. Open the "Internet Options" window and add the addresses of each Web page you want your browser to automatically open to the text field under "Home Page." Add a line break after each address by pressing the "Enter" key. By default, Chrome -- unlike Firefox and Internet Explorer -- does not display a Home button in its toolbar. To display the Home icon, click on "Settings" in the "Customize and Control Chrome" menu and check the box next to "Show Home Button." Select "Change" and enter AT&T's address to set the company's home page as the page that opens when you click the Home icon. To set AT&T as your homepage in Safari, open the "Safari" menu and select "Preferences." In the General tab, enter "http://www.att.com" next to "Homepage."