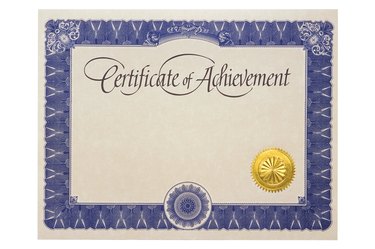 Whether they celebrate workplace achievement, athletic success, academic accomplishment or community leadership, certificates often feature ornate formal borders, some printed in metallic inks. Though these decorations mimic hand-drawn artwork, most owe their swirls, patterns and motifs to graphic design and illustration software. Many programs, including Adobe Illustrator, include prefabricated elements you can apply to outline boxes and frames with elaborate designs suitable for framing. These elements bring one-click simplicity to the task of crafting celebratory documents.
Step 1
Choose the Rectangle or Rounded Rectangle tool in the Adobe Illustrator toolbox. Click on your document artboard to bring up the tool dialog box. Enter a width and height that are smaller than the dimensions of your artboard. Click on the "OK" button to create the box to which you will apply your border treatment.
Step 2
Choose "Transform" from the View menu to open the Transform panel if it isn't visible. Click on the dot in the center of the alignment proxy at the left side of the panel to set the point of origin of your transformations to the center position. Enter half the width of your artboard in the "X" data-entry field and half the height of your artboard in the "Y" field to position the box at the center of your artboard. Press the "Enter" or "Return" key to confirm your transformation.
Step 3
Select the "Brush Libraries" fly-out menu of the Window menu, then choose the "Borders" submenu and click on the "Decorative" option. The free-standing brush-pattern library panel opens on your screen.
Step 4
Switch to the Selection tool in the Adobe Illustrator toolbox. Click on the rectangular object you drew to select it if it isn't already active.
Step 5
Scroll through the list of decorative border styles. Click on one of the entries to apply it to your vector object. If you don't like the result when you see it in use, experiment further to find a selection that meets your needs.