Making a subwoofer has gotten a lot easier in the Internet age. With speaker-building software that can be downloaded for free, plus electrical and mechanical measurements available from T-S parameters without the need for engineering and measuring tools, the task becomes one of care and patience. Use care not to scrimp on the requisite steps to build an optimum speaker box. Use patience to do the job correctly. Doing that, you'll get outstanding sonic performance, often for 90 percent less than a comparable manufactured subwoofer costs.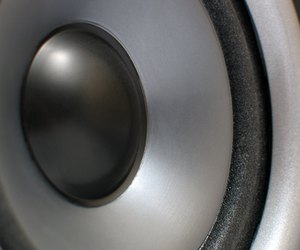 Step
Download speaker-building software. WinISD is a well-regarded Windows design software that is free (see Resource section). There are no free versions of speaker-building software for Apple Macs, but MacSpeakerz allows a 30-day free download.
Step
Buy a good quality 12-inch to 15-inch diameter component loudspeaker to achieve really deep bass efficiently in home theater subwoofers as well as for cars and trucks.
Step
Open a new file in the speaker software, and input the Thiele-Small parameters. Thiele-Small parameters, or T-S parameters, is a system of measurements developed to help standardize and ease the process of building quality subwoofers. They are provided by the manufacturer with every good component, and can also be found in the Thiele-Small online database. (See Resource section.)
Step
Cut 1-inch birch plywood panels to the sizes the speaker software instructs. High quality plywood is more economical than medium density fiberboard (MDF), another preferred speaker box building material. Cut the panels to size with a table saw.
Step
Attach the box frame panels, starting with the two sides, the bottom or top piece and the interior brace. The interior brace increases box rigidity. Use high quality wood glue and wood screws, which together will ensure the tightest bonding of the speaker box. Clamp the box with furniture clamps or other large clamps. Attach the back piece, followed by the remaining end piece. Make the cutout in the back panel for the terminal cup or connectors using a hole saw or router. Glue the terminal cup in the back panel.
Step
Caulk all interior seams of the speaker box with silicone caulk to make a completely airtight cabinet. Line the box interior surfaces with acoustic foam or other acoustic damping material to improve the density of the box.
Step
Make the cuts in the front panel for the speaker and/or port (if you're building a ported subwoofer). Use a hole saw or router to make the cuts. Attach the connection wires from the terminal connectors to the loudspeaker/driver. Allow at least 8 inches of extra wire length to reach the loudspeaker.
Step
Attach the loudspeaker using wood screws and non-drying caulk to ensure an airtight seal. Finish the cabinet in your choice of stain, paint, wood veneer or fabric (for a car subwoofer).