A digital multimeter measures the amount of current used by an electrical device or component. Most multimeters include a settings option for measuring current in amps. Replacement electrical parts and components must have matching amperage ratings to work correctly so proper testing with a multimeter is an essential step before carrying out repairs or modifications.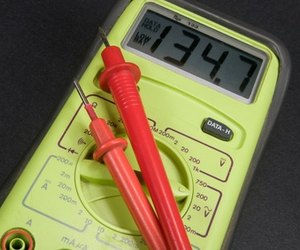 Step
Turn on the digital multimeter. Most digital systems run a self-check before they are ready for use. Allow a minute for the meter to complete its testing.
Step
Set the function selector to read amps from battery power or alternating current. The function setting "A~" measures alternating current in amps, or AAC; "A=" measures direct current in amps, or ADC.
Step
Set the range so the maximum is well above the highest reading expected. This will protect the meter from getting overloaded. If you overshoot the range and cannot get a reading, set it lower.
Step
Connect the leads to the proper terminals for measuring current. Connect the black lead to the "COM," or common terminal. Connect the red lead to a terminal marked for low- or high-current measuring. The low-reading terminal may be identified as "300mA." This would give readings in milliamps; 1 milliamp equals .001 amps. Multiply by 1,000 to get the figure in amps.
Step
Break into the circuit to measure its current. Set the red probe on one open end and the black probe on the other. This may require cutting a wire to get the probes between the circulating current. The idea is to let the current flow through the digital multimeter to allow it to get a reading.