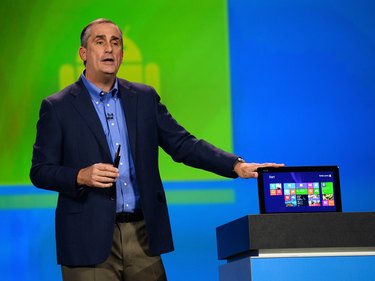 Intuitively, you might try to open a second Internet Explorer window by clicking the browser's button in your taskbar a second time. Rather than launch another window, however, this displays or hides the existing window. The trick: hold the "Shift" key down while you click. Internet Explorer also offers keyboard shortcuts to open a new window, as well as tabbed browsing for when you want to load multiple sites in a single window. Information in this article applies to Internet Explorer 10 and 11 on Windows 7, 8 and 8.1.
Opening a New Browser Window
To start a second copy of Internet Explorer, hold "Shift" and click the "Internet Explorer" button on the Windows taskbar. If the current website in the first window has a long name, you might not see "Internet Explorer" written on the button, but it always shows the program's "e" icon. As a shortcut, press "Control-N" while in Internet Explorer to start a second window. If you want to visit a linked website in a new browser window, right-click the link and choose "Open in New Window."
Working With Multiple Windows
You can see only one window at a time on your screen if you have the windows maximized. To switch between maximized windows, use the Internet Explorer buttons on the taskbar or press "Alt-Tab." To fit multiple windows on the screen at once, click the "Restore" icon next to the "Close" button. When using exactly two browser windows, align the two side-by-side by dragging the top bar of one window to the far-left side of the screen, then dragging the other to the far-right side. With multiple open windows, your keyboard interacts only with the active window. Click anywhere in a window to activate it.
Considering Using Tabs
Tabs are an alternate method for loading multiple websites in Internet Explorer. Instead of having each site display its own button on the taskbar, tabs appear inside the browser window. This saves taskbar space, helpful when you have many programs open, but you can't display two tabs on screen at the same time. You can close tabs individually, but if you close the Internet Explorer window, it closes all tabs at once.
Creating and Managing Tabs
Click the "New Tab" button near the current website's name to start a new tab. Alternatively, press "Control-T" to open a new tab or "Control-K" to open a second copy of the current website in another tab. You can also open links directly in new tabs by right-clicking a link and choosing "Open in New Tab" or clicking on a link with the third mouse button (press on the scroll wheel). Use the tab names to switch between tabs, or press "Control-Tab" on your keyboard to cycle through them. To close a single tab, click the "X" icon by its name or press "Control-W." To change how tabs work, click the gear icon, choose "Internet Options" and press "Tabs." Settings include whether to open pop-ups in tabs or windows and which page to display on new tabs.
Internet Explorer App
If you use the Internet Explorer app on Windows 8.1 rather than the regular desktop version of the browser, windows and tabs work a bit differently. To see the tab bar, right-click near the bottom of the window or swipe in from the bottom on a touch screen. To start a new window, right-click a link (or press and hold on a touch screen) and choose "Open in New Window." The app automatically displays the two windows in a split screen.