There are several ways to open a PowerPoint PPTX file on a Mac computer. These include Apple's built-in apps like Keynote and Preview, as well as other apps you may already have installed on your Mac.
Exploring Your Options
Every Mac with any version of OS X should be able to open a PowerPoint file. To find which applications are available to you, right-click the PPTX file in Finder and select Open With. Depending on what you have installed on your Mac, you can choose apps such as:
Selecting any of these apps will open PPT and PPTX PowerPoint files, as well as PPSX PowerPoint Slideshow files.
If you select the Column view in Finder, you can look at the file without launching an app. Click the arrows that appear on the preview in Finder to move through the slides. Clicking the Quick Look option after right-clicking the file name opens a larger window with thumbnails you can click to navigate through the slides.
Using PowerPoint
Microsoft PowerPoint 2016 for Mac computers opens any PowerPoint file. If you make changes to a PPTX file and save it, it saves it in the same PPTX format, which can then be opened using PowerPoint on any computer, including Windows.
Using Keynote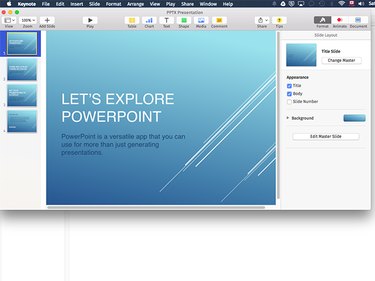 Keynote is Apple's equivalent to Microsoft PowerPoint. It comes as part of Apple's built-in apps on all Mac computers. When you open a PPTX file, it opens just like any Keynote file. If you make changes to the file, you'll need to export it rather than saving it, if you want to keep the file in PPTX format.
Saving Changes In Keynote
Step 1
Click the File menu and select Export To. Click PowerPoint.
Step 2
Click the Format menu and select PPT if you want to save the file in PPT format for older computers. Otherwise, click Next to use the default PPTX format. Note that Keynote can password-protect the file if you click the Require Password to Open check box.
Step 3
Type a file name in the Save As box so that you don't write over the original PPTX file. Click the Export button.
Using Preview
The Preview app in Mac OS X can open all PowerPoint files, just as it would a PDF file. However, you can't make changes to the file. This is a quick option if you just want to see the slides or print them. To see the slides, scroll down.
Other Options
If you have a Microsoft Office subscription, you can open and edit any PowerPoint file saved to Microsoft OneDrive using PowerPoint Online. Select OneDrive, Microsoft's cloud storage service, when saving the PowerPoint file. When you log in to PowerPoint Online, the file will be waiting for you there.
If you have a Google or Gmail account, upload the file to Google Drive. Click the gear icon in Google Drive, select Settings and click the Convert check box to convert PPTX files to Google Slides format for viewing and editing. To download the file in PPTX format from Google Slides, select Download As from the File menu and select Microsoft PowerPoint (.pptx).