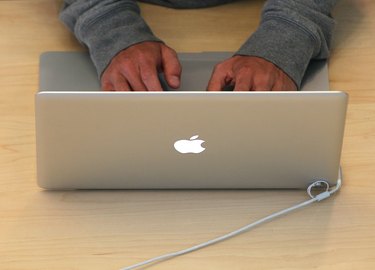 An added benefit to the Mac OS X version of Microsoft's PowerPoint is that it enables you to export movies directly to a format you can imported to another native Mac application, called iMovie. iMovie allows you to burn your presentation directly to a CD or DVD, allowing you to play it in a DVD player. Once in the DVD player your presentation displays as if you were watching a regular movie on your TV set.
Step 1
Open the PowerPoint presentation that you want to export to iMovie.
Step 4
Select "Use Current Settings" if you want to export your movie in the default PowerPoint settings. Select "Adjust Settings" if you want to make some adjustments. Unless you know what you're doing, however, you may not want to make random adjustments to your project's settings as it could affect its compatibility with iMovie.
Step 5
Click "Save." This will save your PowerPoint presentation in a file you can import into iMovie.
Step 6
Open iMovie by clicking on its dock icon. Click on your PowerPoint presentation and drag it into the iMovie window to import your movie file into this program.