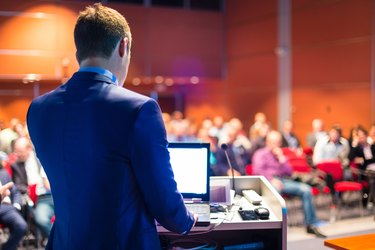 You've no doubt worked hard on your Keynote presentation and you want it to look the best that it can when it's shown. Ideally the Keynote slide size should match the resolution of the projector on which the slideshow will play. If you import digital video into the presentation choose the highest resolution or a high-density (HD) theme to render the best results. Not all Keynote themes offer the HD themes but changing the size of the slide takes just a couple of clicks to complete.
Step 1
Open a new or existing Keynote presentation.
Step 2
Click on the blue "Inspector" button in the toolbar. Click the "Document" pane then click the "Document" button.
Step 3
Click the "Slide size" pull-down menu at the bottom of the window. Select the desired slide size from the pre-sets or click "Custom Slide Size" to enter the desired width and height in pixels. Click "OK" to confirm the size.