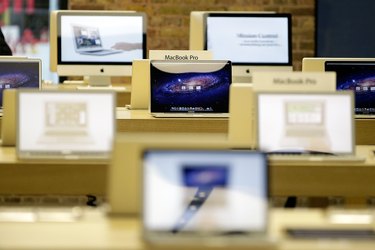 The OS X system software provided with every MacBook includes Terminal, a program that accepts typed commands. Terminal is a handy program for changing settings and solving technical problems. You open Terminal much the same way you would any program on the Mac -- from the Finder, Launchpad or Spotlight. Keep in mind that Terminal is a powerful tool -- one that can damage your Mac software if not used with care.
From Finder
Click the Finder icon in the Dock. Click Applications in the Favorites list. Find the Utilities folder and click to open it. Locate Terminal and double-click the icon to open the program.
From Launchpad
Click the Launchpad icon to open the screen of application programs. Find the Other icon and click to open it. The Mac displays a set of OS X utility programs including Stickies, Activity Monitor and Time Machine. Locate the icon for the Terminal program and click it. As an alternative, click the text area next to the magnifying glass icon in Launchpad and type terminal. Launchpad locates and displays the Terminal icon -- a handy time-saver if your MacBook has many programs. Click the icon to open the program.
From Spotlight
Click the Spotlight magnifying glass icon. In the text field that opens, type terminal. Spotlight displays a list of matches for the word "terminal" including the program. Click the entry for Terminal to open it.
Closing Terminal
To quit the Terminal program, right-click the Terminal icon in the Dock and click on Quit. You can also click the Terminal pull-down menu and select the Quit Terminal entry or press the Command - Q keyboard shortcut.