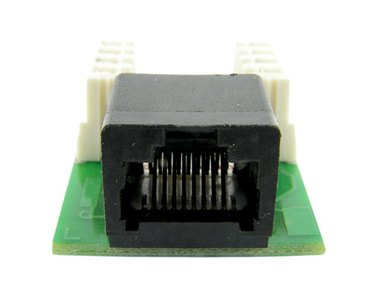 Power over Ethernet or PoE is a recently ratified standard that enables low-powered devices to be powered over a standard ethernet cable. PoE typically requires category 5 type cable or higher for power. Power can also be injected into an ethernet cable run with a supplemental power supply. Internet Protocol (IP) cameras are one type of device that can support PoE. With the appropriate IP camera and an ethernet-enabled laptop, power can be supplied with an ethernet cable from a laptop to the camera.
Step 1
Examine your laptop for an RJ-45 type ethernet port. If your laptop does not have such a port, you will need to power your PoE camera from a different source.
Step 2
Connect a category 5 or CAT5 type ethernet cable to your laptop's ethernet port and the power port on your PoE camera. If you are purchasing a new data cable, check the packaging for the designation of either CAT5 or CAT5e. Most cables also have this designation printed on the side of the cable itself, so look carefully for print on the edge of an existing cable.
Step 3
Purchase a PoE injector if your laptop is incapable of powering your PoE camera over ethernet or lacks an ethernet port. A PoE injector is a device that allows you to power a PoE device through traditional wall power, and manufacturers such as D-Link, Trendnet and Linksys all supply these types of devices.