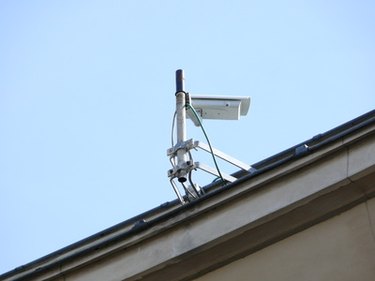 The BNC ports on a CCTV camera may not grant you the best quality when connecting to a computer--BNC ports are analog and the ports on a computer are digital, meaning your signal will have to be converted somewhere along the way. But a connection between your BNC-based camera and computer may be worth the signal conversion. With a computer, you can remotely view camera feeds, burn video disks of footage and record for extended periods of time. And when you're ready to connect your BNC camera to your computer, you'll have multiple options from which to choose.
Step 1
Install a BNC video capture card in your computer, and then use it to attach your camera. A BNC video capture card, such as Hauppauge's Impact Video Capture, can easily be installed in an empty slot on your computer's motherboard, and it eliminates the need for any additional cables.
Step 2
Use a BNC to VGA Video Converter box to connect a BNC camera to your computer (see "Resources" section for link). The VGA and BNC ports on the converter box allow you to connect your computer and BNC camera using cables you already have. But because the signal has to be converted from BNC to VGA, you can expect some signal-quality loss.
Step 3
Attach a wireless receiver and transmitter set between your computer and BNC camera for a cable-free setup (see " Resources" section for link). The transmitter unit sends the audio/video feed over radio frequencies to the base unit. And the USB port on the base unit allows the audio/video transferred over to your computer.