If you plan to back up your DVDs in case they are damaged or lost, or you want to make another version of a DVD for any reason, learning to copy a DVD with Windows is a crucial step in achieving your goal. While Windows can burn files onto a blank DVD, the resulting DVD won't play on every home DVD player. If you want to burn a DVD that plays on any player, but you have a version of Windows later than Windows 7, you'll need to use third-party software to perform the function. However, you can copy video files from your computer to a DVD or easily copy DVDs to play on computers using programs included with Windows.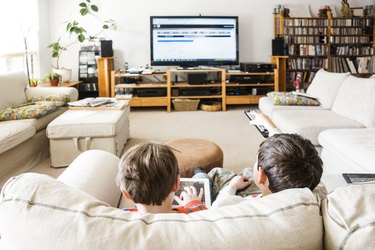 How to Copy a DVD With Windows
For anybody using Windows 10, 8.1 or 8, Windows includes functionality only for making basic copies of a DVD as standard. If you have Windows 7, it includes Windows DVD Maker, which simplifies the process considerably.
To copy a DVD using Windows 10, 8.1 or 8, insert the DVD you want to copy in the drive. It must be a homemade DVD for this process to work. Copy the video files from the disc to a new folder on your desktop. After you do this, remove the DVD from the drive and replace it with a blank DVD. Windows shows either an Autoplay pop-up or a dialog box in the notification center. Select the option that says "Burn files to disc" from the Autoplay pop-up or click the notification and choose the same option from the ones displayed on the screen.
Windows presents you with a choice between using the disc "Like a USB flash drive" or "With a CD/DVD player." If you only want a copy of the original DVD, choose the "With a CD/DVD player" option, but choose "Like a USB flash drive" if you want to be able to regularly change the files on the disc like you would with a USB flash drive. Make your choice and click "Next," which takes you to a window for your blank disc.
Drag and drop your files into the blank disc window to prepare them for burning. When you've done this, they are listed under "Files Ready to Be Written to the Disc." Choose the "Manage" tab from the top of the window, and click on the "Finish burning" option to write the content to the disc. If the content contains video files, you'll be able to play them on any computer or a DVD player that supports the specific file types you chose.
You can also perform this same function through Windows Media Player, by clicking on the "Burn" tab at the top of the screen.
Users with Windows 7 can copy a DVD that plays on all DVD players using Windows DVD Maker. Open Windows DVD Maker and click "Choose Photos and Videos" (unless you already clicked the "Don't show this page again" box on the window previously). This takes you to the main page for Windows DVD Maker. Click "Add items" at the top of the window and browse to find the videos you want to add to the DVD or drag and drop them using Windows Explorer.
Order the files on the DVD using the two arrow buttons on the main screen and remove any items you added by mistake. If you want to add a custom menu, add an image file you want to use as a background. If you don't, DVD Maker pulls screenshots from the video clips. Add a title for your DVD at the bottom if you like. Click "Options" if you want to edit the format or aspect ratio of the DVD and choose whether the DVD goes to the menu or the video files first. Click "Next" when you're ready to go.
The default menu screen includes options for "Play" and "Scenes," along with the DVD title. Edit these if you like by clicking on the "Menu text" option and make any other changes using the "Customize menu" option. When you're happy with the menu, press "Burn" to burn the DVD.
With Third-Party Software
Copy a DVD to play on any DVD player. If the DVD you're copying has write-protection on it, use DVD authoring software such as WinX DVD Ripper Free Edition, Handbrake, MakeMKV or another third-party program. Follow the instructions for your specific program, and you can both copy the content from copy-protected DVDs and write them to be played by any DVD player with ease.
How Do I Transfer a Video From My Computer to a DVD?
Transfer a video from your computer to a DVD using the procedure explained in the previous section using either Windows Explorer or DVD Maker. Locate the video file you're looking for and copy and paste (or drag and drop) it onto the window for the blank DVD you inserted. When you have everything you want on the disc ready to be burned, click "Finish burning" from the "Manage" tab to copy the video to a DVD. Again, you need to use either Windows DVD Maker or another third-party program if you want to burn a disc that works on every DVD player.
Other Considerations
Copying a DVD to distribute content that has been copyrighted is illegal. The only reason you should make a copy of such content is as a backup for content you legally purchased. Copying DVDs that contain home videos or any homemade DVDs containing content that is not copyrighted is legal.
There are many DVD authoring programs online, but because of the potentially illegal use of these programs, not all programs are dependable. Stick to established programs such as WinX DVD Ripper Free Edition and HandBrake to stay safe.