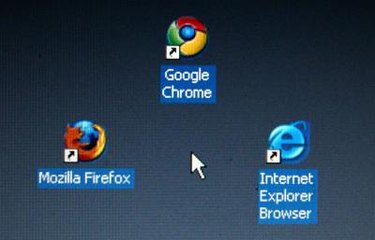 A web page's screen appearance is no guarantee of how it prints. There are many different elements, including pictures, words, and frames, that you have to consider before printing. Many modern printers have an option that allows you to print a page exactly as it appears on screen.
Step 1
Browse to the web page that you want to print.
Step 2
Click "Print Preview" first to view exactly how the page will look on paper. If it doesn't appear how you'd like, close out of the preview.
Step 3
Examine the web page to see if it uses frames. Frames are several different web pages linked and pieced together to appear on one screen. If you are dealing with frames and only want to print one, use your mouse to click inside of the frame that you want to print.
Step 4
Click "File," then "Print" on the browser main menu. Choose the printer that you want to use from your drop down list on the "Print" dialog box.
Step 5
Go to the "Print Frames" section of the dialog box. Your choices here will depend on how you want the frames to show on your hard copy.
Step 6
Choose "As laid out on the screen" or similar if you want all of the frames to display as they appear on screen (if this option is grayed out, that means that the printer will already print the page as laid out by default). Choose "The Selected Frame" if you have frames and you only want to print the one you selected in step three. If you want to print all of the frames, but each frame has to be on individual pages, choose "Each frame separately."
Step 7
Click "Properties" next to your printer on the print dialog box. Choose "Fit to page" under "Resizing," "Finishing" or the similar option for your printer. This will adjust the sizes of the images and text so that they will fit comfortably within one page horizontally (even if there are multiple pages the images and text will print properly on each page).
Step 8
Click "OK" and then print the web page.