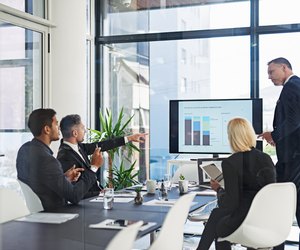 credit: PeopleImages/E+/GettyImages
Microsoft PowerPoint can be a powerful tool in the hands of an experienced user. The slideshow program can be used to create effective, professional-grade presentations in the office – and in the classroom, it can be used both as a lecturing aid and as an active enhancement to the learning experience. Particularly in the classroom setting, it has become common to use PowerPoint slideshows as customized study guides or flash card-esque quiz activities. However, one major issue exists when trying to use PowerPoint in this manner: there is no default method available in PowerPoint to randomize slides. Slides can still be randomized – in both PowerPoint 2007 and in newer versions of the program – but they require more time and attention than one would expect.
A PowerPoint Slideshow in Random Order?
PowerPoint slideshows are designed to be linear: while presentations can be customized with various forms of media, stock or customized transitions, and links to external webpages, PowerPoint's slideshow navigation tools are designed to move through slides in sequential order, or to jump directly to a numbered slide. While this is sensible – having slides appear at random could be disastrous in many settings, and randomizer options could make PowerPoint less accessible to new users – it presents an issue to those who would benefit from creating a PowerPoint slideshow with random order slides. However, Microsoft PowerPoint is still capable of presenting slides in random order, despite the design of its navigation tools. The program can be reprogrammed to do so.
Custom Macros and Add-Ons
Microsoft PowerPoint is compatible with the Visual Basic programming language. As a result, it is possible to program PowerPoint – either manually or by using a presentation file that includes certain strings of code – to operate differently than it normally would. Often this is used to create Jeopardy-like game boards, but it can be used to randomize slide order in the same way. While this is generally done through the process of enabling PowerPoint's developer console, opening a module, and then inputting a set string of code to create a random macro, today it is much easier to install an add-in or use a pre-set PowerPoint file. Check the Resources section for links to add-ins and pre-set files.
Once downloaded, add-ins can be installed by opening the installer file and following the installation instructions – pre-set files must simply be opened in PowerPoint, at which point you may create slideshows as you normally would. Once the slideshow is finished, activate Presentation Mode and the slides will be randomized automatically. If you use different versions of PowerPoint at home and at work, this process works the same in PowerPoint 2007 as well as more modern editions, up to and including the Office 365 version of PowerPoint. If you use and want to randomize Google Slides for easy transfer or presentation of your slideshows, the add-on "Slides Randomizer" can be installed to accomplish the same effect online.
Randomizing by Hand
If for some reason you are unable to get macros to function in PowerPoint, or using Google Slides with a randomizer add-on isn't an option, you can always randomize your presentation manually. Though the process is more time-consuming than would be desired, by simply clicking, dragging and dropping slides in the navigation menu at the left side of the screen, you can rearrange the sequence that the slides appear in. Scrambling a presentation by hand may not be the most elegant solution, and it may make quiz slideshows less effective when used multiple times in a row (due to the downtime required to mix up the slides, in addition to the increased chance of slides appearing in the same position or sequence) – but it will produce a randomized presentation all the same.