We all make mistakes and sometimes it's easy to get carried away when bidding for an item on eBay and other online auction sites. Once you've bid for an item on eBay, you generally can't remove or cancel that bid unless you have a reason that eBay considers valid. According to eBay rules, you can only remove or cancel a bid if you accidentally entered an incorrect bid amount, if you can't contact the seller by phone or email or if the item's description changed after you bid for it. To remove or cancel a bid on eBay, you'll need to fill out an online bid retraction form.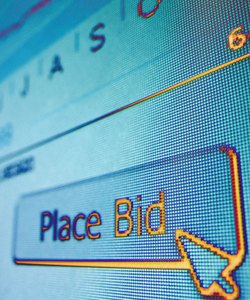 Step
Open the Web browser on your computer, navigate to eBay and log into your account.
Step
Find the item with the bid that you want to retract in the "Bidding" section of your account page. Click on the item link to open the full details.
Step
Copy the item number from the "Other Item Info" pane on the listing.
Step
Click the "Customer Support" tab from the eBay menu and find the bid retraction form by entering "bid retraction form" into the customer support search box.
Step
Type the item number into the dialog box. Select your reason for removing the bid from the drop-down menu.
Step
Click "Retract Bid." EBay will cancel and remove your bid from the auction.