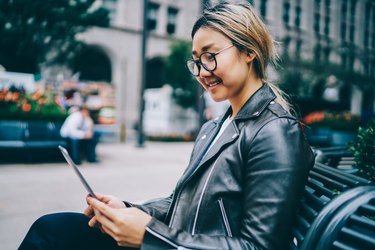 Text messaging is one of the most popular ways to communicate today, and the electronic trail those messages leave can come in handy. If you need to look back at a past message, it should be there in your phone, but what happens if a message is accidentally deleted? Although you can pull your phone records, that won't help you retrieve deleted text messages. Sprint only provides information on the numbers and times of message transactions.
View Text Messages on Phone
The best place to view your text message history is on your phone, of course. But if you need to retrieve deleted text messages, Sprint won't be much help. The service limits the content of each text to your own device. Sprint only saves information on the phone numbers and names of the people who send and receive messages through its service.
If you're looking for a Sprint text message history hack, you won't find one with Sprint. While Verizon now lets you read your text messages online, Sprint limits them to your phone. If your phone is connected to your computer, though, and you have your computer set up to send and receive texts, you should also check there.
Access Sprint Text Log Online
Although there is no Sprint text message history hack that will give you the content of your incoming and outgoing messages, you can get some basic information. Your monthly phone bill will show your call log, including any phone numbers that exchanged text messages with you. You can also get the times and dates of the interactions.
The good news is, you don't have to wait until your billing statement to view your messages. You can log into your account and see billed text details for the past 90 days. This will only include transactions that took place while you were on the Sprint network, so if you were roaming, that data won't be captured. Simply go to sprint.com/viewbill, log in and click Calls/Texts Logs.
Contacting Sprint for Information
Your first instinct may be to pick up the phone and call Sprint to request the information you need. Unfortunately, the customer service representative won't be able to give you this information. If you're trying to retrieve deleted text messages, Sprint will similarly tell you you're out of luck.
It's also important to note that you'll only be able to get information on phone numbers that are on your account. The Sprint text log won't capture your child's or spouse's activity unless you're all on the same bill. However, if they are, it can be a handy way to track what phone numbers your child is interacting with each month.
Criminal and Legal Message Requests
Although you won't find a Sprint text log online or by phone, if you have a criminal issue, that may be a different matter. Sprint will cooperate with the government and law enforcement officials when it comes to requesting communication records, but only as federal and local laws apply. Even then, though, Sprint doesn't provide the message content. In most cases, authorities will seize the equipment used to send and receive the messages in order to get that information.
But don't assume this is a Sprint text message history hack that will allow your attorney to get your spouse's texts in your divorce. An attorney can get records concerning the communication from a cell service provider, but that doesn't include the content of that communication. Even call logs will require a subpoena.