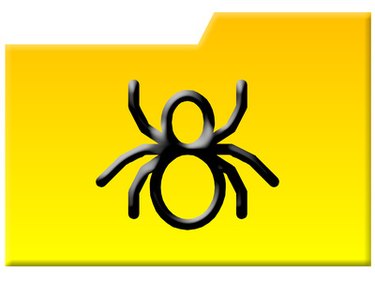 The occurrence of incessant pop-ups on your computer will usually indicate a Trojan horse virus infection. When a Trojan infects your computer, it will install spyware programs that can have a devastating effect on your computer's privacy and security settings. A number of these infections can also interfere with your security program, making your machine even more vulnerable to additional virus attacks. Nonetheless, viruses can easily be removed with a security program.
Delete Cookies
Step 1
Delete tracking cookies in Internet Explorer. Open the browser. Click on "Tools." Click on "Internet Explorer" and select "Delete" under "Browsing History". Close the browser after the removal process is complete.
Step 2
Delete tracking cookies in Mozilla Firefox. Open the browser. Click on "Tools" and select "Options." In the "Privacy" tab, click on "Clear" to delete cookies from the browser. Close the browser.
Step 3
Delete cookies from the Safari browser. Open Safari. Click on the "Safari" menu and select "Preferences." In the "Security" menu, click on "Bookmarks." Click on "Show Cookies." You will be given the option to right-click on individual cookies that you think are infected by a virus, or delete all cookies by clicking on "Remove All." Close the browser.
Virus Scan
Step 1
Download and install an antivirus program, if you do not have one all ready. The antivirus program will filter through your system files and delete any virus infections. A cookie infected with a Trojan horse virus will act as a back-door virus, allowing spyware viruses to install in your system, subsequently collect sensitive information, and relay this information to a third party. Ensure your privacy by installing an antivirus program. Top Ten Reviews has a comprehensive list of notable antivirus software (see Resource).
Step 2
Start the computer in Safe Mode. Safe Mode is a diagnostic tool that allows you to boot your computer with minimal tasks running in the background. Running a virus scan in Safe Mode will ensure that no viruses interfere with your antivirus program. Click on the "Start" in the lower-left corner of the computer screen. Select "Turn Off Computer." Click on "Restart." When the computer starts booting up, click on the "F8" button. A menu will open. Select "Safe Mode" to start the diagnostic tool.
Step 3
Run your antivirus software and start a complete system scan. Depending on the number of files on your hard drive, the scan will take a few minutes or hours. Allow the program to complete a full system scan. The program will compile a list of infected files, folders and directories. Allow the program to delete these infections. Restart the computer and boot your machine normally.