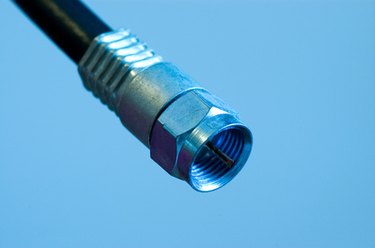 If you're giving up your cable service to save money, it's a good idea to leave any existing cables intact: You might want to reinstall cable at a later date, or you might want to sell your home (having a home prewired for cable is always an appealing selling point). However, if you're upgrading your wiring or simply determined to be wire-free, you can remove your cable wiring as long as you proceed with caution.
Step 1
Locate your cable's main line: This line will be located on the exterior of your home, near your power, water or gas meter or perhaps your phone box. Trace the line to the first splitter, a metal unit that splits your wire off in various directions. Disconnect the cable's main line from the input on the splitter, using pliers if necessary. Trace the cables to your televisions (or modems, if applicable) and ensure that all wires are disconnected before continuing.
Step 2
Trace the wires to where they enter your home through the walls; cut the wires on both sides of the wall. Or, if a wire enters your home through a cable switch plate, disconnect the wire there. Repeat for all remaining connections.
Step 3
Remove any switch plates installed in the wall, if applicable. Using your screwdriver, remove the screws, then peel off the switch plate to expose the wiring underneath.
Step 4
Remove any caulked wire connections, if necessary. Cable companies tend to run wires straight inside to televisions inside the home. They then caulk the holes to seal them from the outside. If this is the case, simply peel away at the caulk with a knife until the cable breaks free. Pull or push the remainder of the cable through the hole.
Step 5
Cover any holes leading to the outside once the holes are clear. Use caulk on the outside of your home for the best seal. Spackle the inside hole or cover it with a blank switch plate.