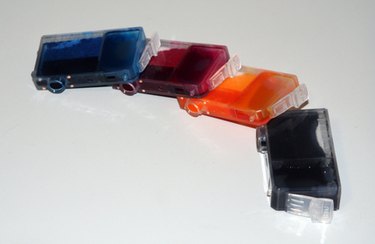 The multifunction Canon Pixma MP30 has printing, scanning and copying capabilities. If your prints seem faded or have streaks, ink may have built up in your print head nozzles. Try running the cleaning or deep cleaning cycles, found under the "Maintenance" option in the printer's menu. If this does not improve the quality of your prints, you might need to replace a damaged print head. Once you know where to locate the print head, removal is simple.
Step 1
Turn on the printer and press the "Open" button. The output paper tray will open.
Step 2
Lift the printer cover containing the scanner bed. The print head holder will slide to the center for easy access.
Step 4
Pull up the gray print head lock lever on the left side of the print head holder.
Step 5
Lift the print head out of the holder.