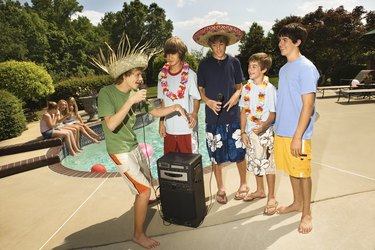 If you are a fan of Karaoke and would like to collect Karaoke tracks on YouTube, you can use free Audacity audio editor. It lets you remove the vocals from your favorite songs downloaded from YouTube and acquire the karaoke tracks without cost. Copyright laws forbid distributing, selling or making any profit from the recording. Check with the artist's label or management to ensure you are not violating copyright laws before you begin.
Step 1
Download a copy of the Audacity audio editor and save it to your hard drive (see References).
Step 2
Open the editor and select "Stereo Mix" from the drop-down menu located in the top quarter of the window.
Step 3
Locate the song on YouTube you want to work with. Minimize the window so you can access the play button as well as the Audacity record button.
Step 4
Click the red "Record" button located near the Audacity drop-down box, then click the YouTube song's "Play" button to begin recording. Click the brown "Stop" button when the song is finished recording.
Step 5
Access the track menus located next to the channel and select "Split Stereo Track." Highlight the right channel located below the left channel.
Step 6
Click the "Effects" button and Choose "Invert." Change the tracks to "Mono" in the channel drop-down box.
Step 7
Save a copy of the recording when finished editing. Select the "File" button located at the top of the page. Choose "Save Project" if you want to save the file in the Audacity format. Audacity files can only be played in the Audacity editor. To save the file in another format, select "Export" from the "File" menu and save to your hard drive.