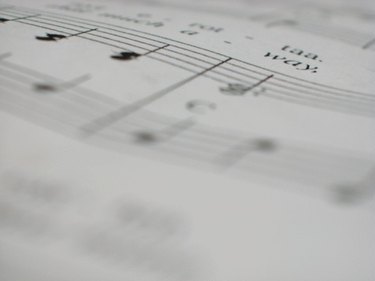 Audacity is an open-source audio recording and editing package that is used to record both music and voice, as well as to edit recordings of songs in mp3 and other commonly used digital audio formats. Since Audacity has features that enable you to split the voice and music tracks of a stereo audio file, you can use the program to save only the vocals from a stereo recording of a song. You simply use the program to separate the stereo track into two mono tracks and you save only the track that contains the vocals.
Step 1
Launch Audacity and use the "Open" command in the "File" menu to import the file you wish to edit into Audacity.
Step 2
Click the downward arrow next to the track title in order to open the pop-down track menu.
Step 3
Highlight "Split stereo track" on the pop-down menu and click on it to initiate the process of splitting the combined vocal and music track into two separate mono tracks.
Step 4
Highlight the upper track (the left channel) by clicking it in the prompt located near the "Mute" and "Solo" buttons.
Step 5
Click on "Invert" in the "Effects" menu.
Step 6
Click on the pop-down track menu for each track and select "Mono."
Step 7
Delete the music track by clicking on the "X" to the left of the downward pointing arrow that opens the pop-down track menu. Click on "Undo" in the "Edit" menu if you inadvertently delete the vocal track.
Step 8
Play back the results by using the play icon to make sure they are satisfactory. If you are not satisfied, try downloading free plugins such as "kn0ck0ut" or trial versions of paid plugins including "ExtraBoy" or voxReducer (for Mac OS X) and follow the directions on their sites or in the Audacity wiki for better results.
Step 9
Select the format in which you want to save the file from the "Export" file menu and enter a file name in the dialogue box before you click on "Export."