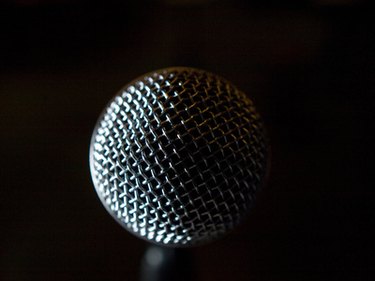 Garageband is a podcasting and music creation application for Macintosh computers. The software can record voices, instruments or any other sound for editing and processing. Users can save their mixes as podcasts or audio files. Changing or applying effects to voice tracks recorded in Garageband is easy thanks to its user-friendly interface. You should be able to alter your recorded voice in only a few seconds.
Step 1
Start Garageband and click "New Podcast Episode" from the menu.
Step 2
Give the project a name and click "Create."
Step 3
Click either the "Male Voice" or "Female Voice" from the list of tracks.
Step 4
Press the circular record button and record your voice into Garageband. Click the square stop button when you are finished.
Step 5
Double click either the "Tracks" or "Mixer" rectangle to bring up the track info menu.
Step 6
Click the "Details" triangle to produce the effects menu.
Step 7
Click the check box next to the name of an effect to apply it to your recording. Use the drop down menus to change between different types of effects.
Step 8
Click "Save Instrument" to apply the effect. Press the triangular play button to listen.