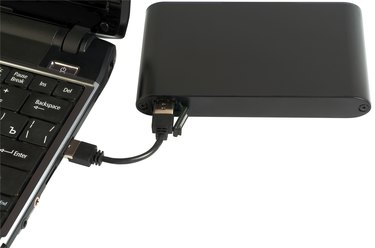 Under certain conditions, the Windows operating system will assign Read Only permissions to external hard drives connected to the computer. This can happen if you have configured your computer with dual-booting operating systems, or if access permissions are modified for user accounts. If your Windows user account has administrative privileges, you can remove the write protection by editing the Read Only attribute for the disk using the Windows Diskpart command line tool.
Step 1
Connect the external drive to the computer and allow the system to recognize the disk as a removable drive.
Step 2
Open an elevated command prompt. To do that, click the Start button and type "cmd" in the search box, then right-click and choose Run as Administrator (Windows 7) or go to the Start Screen, type "cmd," and then right-click and choose Run as Administrator (Windows 8).
Step 3
Type the "diskpart" command at the command prompt, then press the "Return" key. The Diskpart command prompt appears.
Step 4
Type "list volume" at the prompt, then press "Return" to list all volumes connected to the system.
Step 5
Type "select volume N" where "N" is the volume number to edit. Press "Enter" to select the volume in the Diskpart tool.
Step 6
Type "attributes volume clear readonly" and press "Enter." The Read Only attribute is removed from the drive.
Step 7
Type "exit" at the Diskpart prompt to close the tool.
Tip
Note that a "volume" is the same as a partition. If the external hard drive contains more than one volume that is write-protected, you must run the attribute command on each read-only volume.