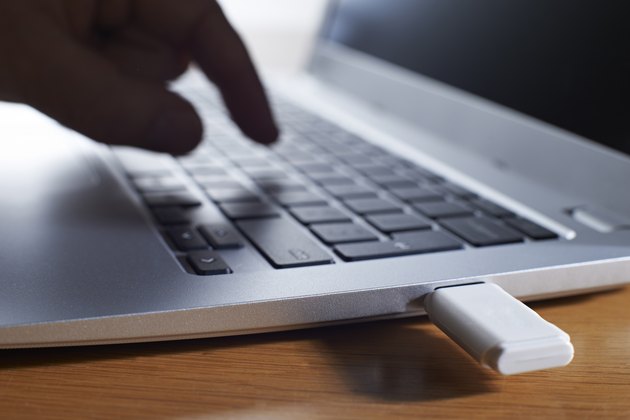 A Universal Serial Bus (USB) flash memory drive is essentially a small hard drive that allows you to store data in a compact location. USB flash memory drives work slightly differently than other types of memory storage devices, and they are more likely to become corrupted over time. If your flash drive is malfunctioning, the only sure way to fix the issue is to format the drive back to its original factory settings. Unfortunately, the solution to the malfunction will wipe out all of the data on the drive—but all of that data can then be restored with a recovery tool.
Reformat the Flash Drive
Step 1
Connect the USB flash drive to one of your computer's USB ports. Close down the pop-up window that appears.
Step 2
Open the "Start" menu and select "My Computer." Locate the drive letter that corresponds to your USB flash drive.
Step 3
Right-click the drive letter and select "Format." If your computer is running Windows Vista, you will also need to click "Continue."
Step 4
Click the "File System" button and select "NTFS." Remove the check mark from the box labeled "Quick Format" if it is checked.
Step 5
Click "Start" and wait for the formatting process to finish.
Recover Data
Step 1
Download and then install a recovery program such as "USB Flash Drive Data Recovery," "Data Recovery" or "Pandora Recovery" (see Resources section). Open the program after the installation is complete.
Step 2
Select the USB drive from the list of available drives. Select "Options" and set the program to recover formatted files.
Step 3
Select the specific type of file you want to recover, such as images or sound files, and click "Next." Click "Start" to recover the files back to the USB drive.
Tip
Some USB flash drives have a physical locking mechanism that prevents you from changing any of the data on the drive. Before formatting the drive, check the bottom of the USB device to see if the plastic locking mechanism is set to the "lock" position. In some operating systems, you may need to navigate to "Control Panel" and then "Device Manager" instead of using the format feature directly from the "My Computer" window. Right-click the entry for the USB drive as normal and choose "Format." The options you need to choose to run the recovery program will vary between different programs. Click the software's "Help" feature for more specific information.
Warning
Do not save any data to the USB flash drive before running the recovery tool. If you save a file to the drive, it may overwrite the sector containing the formatted data, and the files can be lost forever.